Furious 4 no longer part of the Brothers in Arms franchise
| September 4th, 2012 |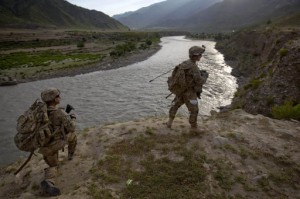 Developer Gearbox Software has revealed that Furious 4 is no longer a part of the Brothers in Arms franchise and will instead is being re-imagined into a completely new intellectual property (IP).
Talking about the upcoming game during the "Inside Gearbox Software" panel at PAX Prime panel in Seattle this week, Gearbox Software president Randy Pitchford provided with the latest update on the development of the much-awaited first-person shooter that was revealed at the Electronic Entertainment Expo (E3) last year.
The studio boss conceded that the game was no longer going to continue the Brothers in Arms legacy as was initially planned. During the course of the development, the project had continued to drift away from the core of the Brother in Arms franchise and is still in the process of moving away in farther.
"I wanted to let everyone know that that game's no longer going to be a Brothers in Arms game," Pitchford said. "It's going to be an all-new IP."
In order to completely break free of the shackles that were holding the development team back, the decision to separate it from the previous franchise has been taken and instead the upcoming game will be presented as an all-new IP, one that may or may not end up becoming a franchise of its own.
During its unveiling at E3 2011, it had not taken fans much time to realise that the game hardly fell in line with the other Brother in Arms titles. Instead of taking a traditional approach towards World War II, the game appeared to be touching the subject matter in quite a unique manner.
While the previous Brother in Arms titles had focused on Staff Sgt. Matt Baker of the 101st Airborne Division, Gearbox Software has moved the spotlight to a small and unnamed unit of characters, which is on a mission to take down Hitler himself, whereas the war continues in the backdrop.
There have been quite a bit of confusion regarding the development of Furious 4, with rumours regarding the cancellation of the project emerging from time to time. This blame for this, to an extent, could be given to the studio itself as the way it was remaining silent about the project kept creating doubts in the fans of the Brother in Arms franchise as well as the analysts.
Pitchford had broken the silence and removed all doubts regarding the future of the upcoming first-person shooter during an interview not too long ago, conceding that the studio was deliberately keeping the information regarding Furious 4 under wraps as it was going through a process of evolution and heading towards becoming something that they would soon be sharing with the world.
Gearbox Software plans on revealing more details about Furious 4 at the studio's upcoming community day in Dallas, Texas, on September 15.
Other People Are Reading