Fuse was changed from stealth to action amid Leeroy Jenkins fears
| November 5th, 2012 |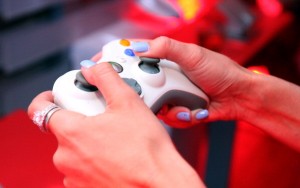 Brain Allgeier, the creative head on the upcoming Insomniac game, explains that the studio moved from a stealth premise to an action one as they were worried that there would always be that one person who would ruin the experience for the other players.
Originally titled, 'Overstrike' the game is a four player cooperative game that sees a unique blend of weapons in a futuristic, sci-fi setting; classic Insomniac then, but for the cooperative aspect.
Brian Allgeier, the creative head of the game, explained the reasons behind the game going all action. He said, "The game was originally going to be a four-player stealth game, and Naya was going to be able to cloak herself and cloak other people."
Sounds interesting but sadly that is not going to be the case. "But we quickly discovered that there was always going to be a Leeroy Jenkins who runs in the middle of the group, wakes everyone up and ruins it for everyone. So we dialled back the stealth."
Leeroy Jenkins is a phenomenon, not just a person. The infamous YouTube video which sees a group of players all standing around discussing their plan of attack on one of their quests only to see everything ruined when Leeroy Jenkins yells his name and charges into the chamber to hilarious results.
In essence, Leeroy Jenkins can be defined as the ultimate troll as his actions are both hilarious and not too uncommon. It was for this reason, or rather all the Jenkins out there, that Insomniac decided against the stealth approach in the upcoming game.
At the same time, Ted Price, the President of Insomniac, also highlighted how the game had changed considerably since people last saw it at E3. He explained the reasons behind the darker tone and the change in emphasis.
"On the previous version we were self-restricted from doing a lot of the over-the-top, in-your-face, high-impact weapon deaths that we are used to. Once we made the decision to go darker with our tone we were able to take the handcuffs off and do crazy crap to the enemies."
Insomniac Games made a name for itself in the shooter market with its Resistance trilogy, which took the PlayStation 3 console by storm. However, the third instalment in the game, although praised by critics could not live up to expectations in terms of sales.
That was the last PlayStation exclusive title that the developer has worked on as the studio is now focusing on developing games for the multiplatform market. It was also confirmed that Insomniac would not be developing any future Resistance games but Sony also pointed out that the series could see the light of day sometime in the future.
Other People Are Reading