Games to look forward to in 2013 – Part 2
| December 25th, 2012 |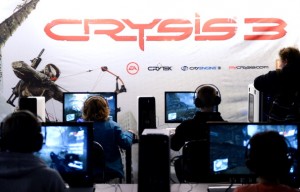 Dead Space 3 is set to get the next year going but it will be followed soon after by another title from EA, one that PC gamers will be looking forward to for sure.
So Dead Space 3 is all set to bring a number of changes to the series; from a change in setting to the introduction of co-op as well as a new weapon creation system but it seems that EA seems to want to keep 'space' theme for February.
While Isaac Clarke is set to fight the necromorphs, his hallucinations and the Marker in his game, all of which will take place on another planet, planet Earth is also set for some action as well. CryTek is set to release the third instalment of Crysis in February as well. This particular game will see the fight take place closer to home, seeing how New York City is considerably less further away than Tau Volantis.
Crysis 3 will see Prophet, the protagonist from the second game return in his nano-suit to not only repel an alien invasion but also stop CELL, an organization that is looking to profit from the alien technology, as well.
CryTek's latest offering will follow the release of Dead Space 3 and is set to hit North America on the 19th of February while European gamers will have to wait until the 22nd of February to get their hands on the game.
The game was teased by CryTek fairly early on this year but it was only until E3 that players got to see the game in all its demo glory. It seemed a far more polished, visceral experience than its second instalment, which is saying quite a bit.
CryTek have boasted that their engine has been next-gen ready for quite some time and this could be the last Crysis game to be released on the current generation of consoles. It is fitting then that the developer also stated that they are using up more than 99% of the PlayStation 3 and Xbox 360's capacity and power to run the game.
The developer seems to have invested a lot into the title and it will be interesting to see whether or not it will prove to be the success that the developers hope it will be.
However, if Crysis 3's visual prowess does not interest you then what about the return of a certain female icon and the story of her origin and what made her in the globetrotting adventurer who made the PlayStation One and PlayStation 2 her home.
Disclaimer: the views and opinions expressed in this article are the writer's own and do not reflect the editorial of news.wishfree.com in any way.