GameStop eyeing second-hand sales of digital content
| July 28th, 2012 |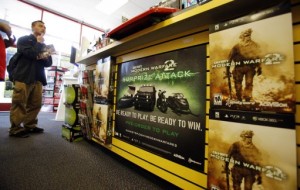 It has been revealed that GameStop is already looking into sales of second-hand digital content, news that is definitely going to make publishers and developers lose their sleep.
The CEO of the America-based retailer company Paul Raines during an interview with GameSpot that they have begun to explore ways to stick to their business model by taking a look at various technologies and getting in talks with a couple of companies, which are still start-ups, to come up with ways to re-sell digital content.
"It's very interesting," he said. "There are some technologies out there in Europe, and we've looked at a couple that are involved. We're interested; it's not a meaningful business yet. Right now we're not seeing that as a huge market, but I think we're on the leading edge. There are a few companies, a few start-ups, out there that we've talked to that are doing this."
GameStop indeed seems to be headed in the right direction as far as business is concerned. The digital market is expanding at a significant rate, with increasing number of developers and publishers finding the prospect of going digital extremely appealing.
The president of Electronic Arts (EA) Games Frank Gibeau had even gone all the way to state that if the consumers wanted their content to be delivered to them through a digital channel, that is exactly what they would get, further adding that his company plans on going 100 percent digital in the future.
The focus of publishers and developers on digital market is bound to hurt the retail market. Anticipating the changing environment of the gaming industry, GameStop is already making a move to make itself future-proof.
Looking at the various technologies, the company is convinced that the resale of digital content is indeed a possibility. However, Raines refused to reveal the companies that GameStop had talked with as such information seriously threatens the competitive edge that the retail company enjoys.
Publishers and developers are not exactly fond of GameStop due to the nature of its business, i.e. selling used games at cheaper prices, as it has a huge impact on the amount of money that they companies generate through sales.
In an attempt to minimise this loss, companies ended up incorporating certain online functionality or modes in games that is only available if the game is new. Some gaming companies go one step further and skip retail market altogether, offering their games and other content through an online channel, convinced that this would keep the games from being resold as no known way of reselling digital content has surfaced yet.
It seems that these companies are about to be outsmarted as GameStop has apparently turned its attention towards the possibility of selling second-hand digital content.
Other People Are Reading