Gears of War creator resigns from Epic Games
| October 4th, 2012 |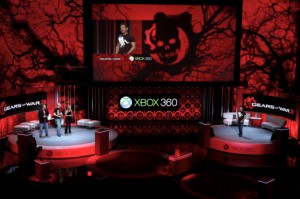 Cliff Bleszinski a man with over 20 years of experience in the business and an impressive catalogue of games under his belt such as Unreal Tournament and Gears of War, is taking a break from the video game industry.
Many who are familiar with news relating to the behind the scenes workings of the video game industry will be familiar with the name Cliff Bleszinski. For those who are not allowing us to summarize exactly how 'big' this man is in the industry and how much he has contributed.
First things first, Cliff's studio, Epic Games, is the one that developed the Unreal Engine, which throughout the years has powered more games than anyone could care to count. The engine recently showed off its latest iteration, which is set to be the platform for many developers to develop games for the next generation of consoles.
When it comes to games created then the two that stand out the most will be Unreal Tournament, which is a cult classic in its own right, and more recently the ever so popular, Gears of War trilogy.
However, his most significant contribution came in the form of convincing Microsoft to double the processing power of the Xbox 360. Microsoft originally intended to make their console less powerful, a lot less powerful. It was on Cliff's insistence that the manufacturer spent over a $100-million and redesigned the console.
The results are here for everyone to see as the console sold in the millions and is on par with Sony's PlayStation 3 console. It could all have been so different had it not been for the 'more power!' attitude and persistence of Cliff Bleszinski.
Upon departing from Epic Games, Cliff released a statement:
"I've been doing this since I was a teenager, and outside of my sabbatical last year, I have been going non-stop. I literally grew up in this business, as Mike likes to say. And now that I'm grown up, it's time for a much needed break."
The statement continued, "I will miss the projects, the playtests, the debates, and most importantly, the people. Epic only hires the best of the best, and it has been a joy working with each and every one of you on a daily basis, whether you were hired weeks ago or decades ago."
At the same time tributes began flowing in from around the industry including developers such as the creator of the God of War and Twisted Metal series, Scott Jaffe, as well as Tim Sweeney, the CEO and founder of Epic Games as well, who said,
"Cliff leaves Epic with our gratitude for his many contributions, and our wishes for his continued success in the next chapter of his life!".