Gears of War film being revived
| October 11th, 2012 |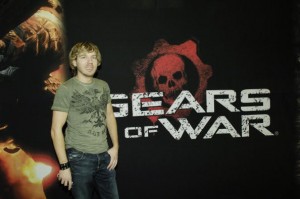 The fans of the Gears of War franchise will be pleased to hear that the plans to revive the silver screen adaption of the military sci-fi third-person shooter are being revived.
According to the Hollywood news site Variety, Creative Artists Agency is quite keen to start meeting producers in the coming weeks to re-activate the development of the film.
The film was originally being handled by New Line since 2007, but the Lord of the Rings studio put the project on hold to shift their focus to Peter Jackson's "The Hobbit" trilogy instead.
The Gears of War film has not seen any progress in its development for quite some time now, prompting Creative Artists Agency, which reportedly represent's the franchise's developer Epic Games, to start considering other options.
In the past, a number of big Hollywood names have been attached to the project, including the Live Free or Die Hard director Len Wiseman who joined the project in 2008 but dropped from the film in 2010.
Twilight producers Wyck Godfrey and Marty Bowen had also been previously attacked to the project, while Chris Morgan and Billy Ray have worked on the film's scripts, which Creative Artists Agency is likely to turn their attention to in the coming days.
The most recent screenplay has been penned down by Stuart Beattie, also represented by Creative Artists Agency, who is well-known for his affiliation with Pirates of the Caribbean: On Stranger Tides.
Late Top Gun and Man on Fire director Tony Scott was also believed to be interested in direction the film.
It is not year clear which studio Creative Artists Agency approaches for the resumption of the Gears of War film, nor is there any word on the director of the film as yet.
One thing that is known for certain, though, is that whenever the work on the film will resume, it will do so without the former Epic Games design director Cliff Bleszinski, who unexpectedly left the company last week after staying onboard for 20 years.
Bleszinski played a significant role in the design of the Gears of War franchise and was instrumental to the promotion of the brand as well.
His departure will surely affect Epic Games as it readies itself to launch the fourth instalment in the series next year
Gears of War is one of the most popular third-person shooters in recent times. While it was initially announced as an Xbox 360 exclusive, a PC port was eventually released.
The upcoming Gears of War game will, however, remain exclusive to Microsoft's current-generation console.
Gears of War: Judgement, developed by Epic Games and People Can Fly, is scheduled to hit the markets on March 19. 2013. The game is being developed by Epic Games as well as People Can Fly.