God of War Ascension Collector's Edition and Special Edition Revealed
| October 13th, 2012 |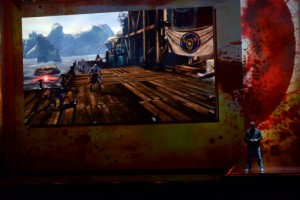 Former comes with 8" Kratos Figurine, will retail at $80 and is sure to sell in the thousands as Sony gears up for the game's March release. Pre-order bonuses have also been announced.
There may still be time for the prequel to one of gaming's most celebrated series, however, that has not stopped Sony from being the hyping up process as they have announced two non-standard editions of Santa Monica Studios upcoming game.
Starting things off with the Special Edition which comes with a number of goodies for fans of the series; the game will come in a Premium Steel book game case instead of the standard plastic case, which will separate it from the rest of the lot.
However, that is the only physical goodie gamers can expect as the rest of the content can only be availed in-game or on the PlayStation 3 console. The edition also comes with Double XP bonus for the newly introduced multiplayer mode, the Official soundtrack of the game, albeit only digital, and the PlayStation 3 dynamic theme as well as an avatar pack.
That's pretty much it on the Special Edition front; however, fans of the series who want to douse themselves in maximum God of War sauce will have their sights set on the Collector's Edition.
Retailing at $80, which is not that bad considering how many similar editions cost around the $100 mark, the God of War: Ascension Collector's Edition comes with all the goodies that the Special Edition offers, as well as a few items that will have fans drooling with desire.
The first extra goodie is "The ultimate GoW Collectible – an 8" Kratos figurine. Take a moment to let that register. Chances are if the reader is into these things then he cannot wait to spend his hard earned money on this, whereas the rest of the readers will be wondering what the big deal is. It's a pretty big deal, take it from us.
At the same time, the Collector's Edition also comes with a code that will unlock all future DLC for the game free of cost.
Lastly, the gamer who is fortunate enough to get himself a copy will also find himself the owner of the Mythological Heroes Multiplayer Pack as well. The pack contains four different armour sets players can don on their players with each armour set based on mythological heroes.
Both editions are set for release on the same day as the standard edition of the game is set to hit stores. For those who have not yet marked that date on their calendar now is the time to do it.
Silly us, we tortured you by not telling you the release date, here it is: March 13th, 2013.
Other People Are Reading