God of War: Ascension multiplayer beta comes with two maps
| December 17th, 2012 |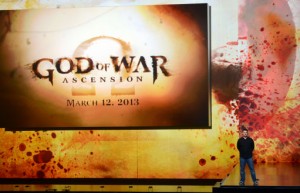 Sony has announced a beta for the prequel to the immensely popular series, which is set to hit the PlayStation Network on the 8th of January.
Kratos is set to make a return on the PlayStation 3 console in  a prequel to the epic series. The third game tied things off pretty well with SPOLIER ALERT! The gods and the Titans both truly beaten and Kratos' vengeance extracted SPOILER END!
The obvious choice was not to continue the story and instead Santa Monica Studios decided to give players a glimpse into Kratos' early life before he was approached by Aries and felt the need to destroy the heavens to extract his vengeance.
There has been much talk about the game's multiplayer component, which is a first for the series and the developers are giving players a chance to dive into the action and try it out for themselves.
Those who participated in the Rise of the Warrior experience earlier on will be the first to get access to the new beta, which comes with an extra map.
Derek Osgood, the Associate Product Marketing Manager at Sony Computer Entertainment America, made the following announcement on the PlayStation Blog.
He said, "If you were one of the wise mortals participating in our Rise of the Warrior experience, and belonged to the winning Spartan team for our first team challenge, your early Beta access begins today!"
At the same time, those who ended up on the losing side of the same experience need not be too worried as they too will gain early access to the beta, though they just have to wait a wee bit longer.
"If you are a Trojan, though you were defeated in the first team challenge, the Gods have shown mercy and are granting you early access starting December 16th."
It seems there is nothing on offer for standard PlayStation Network subscribers as the beta will only be made available to PlayStation Plus subscribers.
"As announced, everyone with PlayStation Plus memberships will be able to download the Multiplayer Beta beginning January 8th."
The beta will come with the same map that has been demoed and beta-ed before, but this time around a fresh arena will also be provided for more carnage.
Anyone who has played God of War 3 will remember the Hercules Arena, where Kratos had to take out his brother, or rather step-brother. That arena has been given a slight makeover and has been added to the latest beta experience.
Derek concluded, "We're really excited to introduce our "Forum of Hercules" Multiplayer Arena level!"
So do you have a PlayStation Plus subscription? Will you be giving God of War: Ascension's beta a go? Let us know in the comments section below.
Other People Are Reading