Gran Turismo 5 gets super sexy car DLC pack
| September 27th, 2012 |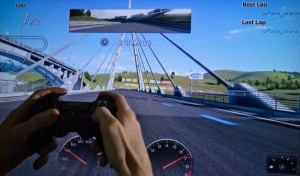 Sony announced another update for the Polyphony Digital's driving simulation game as well as three new cars that can be downloaded for $0.99 each, and they seem worth every cent.
A testament to the support Polyphony Digital are offering to players who still drive around in Gran Turismo is the fact that fresh content and gameplay tweaks are still being added to the game, over two years after its release. In fact, the game received a major update a year ago, which took it from version 1 to version 2 and the latest update will now take it to version 2.08.
However, one has to also point out that when Gran Turismo 5 was released it seemed unfinished. Although the driving mechanics, gameplay and all the functions were there, a number of presentation and issues with the visuals marred the game from being perfect. A host of updates later and it finally has more of a complete shape.
The update itself is free but the three new cars are each being offered at $0.99 each, which isn't a bad deal for a car, even if it is in the digital world, especially since they are premium models.
Starting things off with what the update will do for the gamer and the game. First things first, players will be able to "Disable collisions" in online races, which will stock that one annoying player from crashing into you from the opposite direction when he is losing. You know who you are.
Player ID's will now appear over the cars during online races and some improved functionality for the G25, G27, T500RS and TH8RS Racing wheels has been added as the "response of the clutch pedal" has been improved.
Tires now deteriorate at a slower rate than before during endurance races and aerodynamic wings actually reduce air resistance more now and are more than just nice decoration pieces to have on the car's rear-end.
Cars will no longer crash when exiting the pit lane in Tsukuba Circuit when on autopilot and Polyphony Digital has also "adjusted the changes in control characteristic when altering vehicle height from standard height".
These changes are minor but take GT5 one step further to being the only racing simulator worth owning on consoles, or at least on the PlayStation 3.
As for the new cars, well players can pick between the Honda weider HSV-010 (Super GT) '11, the gorgeous Subaru BRZ S'12 or the Nissan GT-R N24 GT Academy '12 for just under $1 each or $2.97 for all three.
Players may be used to the Nissan GT-Rs by now by the Subaru and the Honda are drop dead gorgeous.
So will you be getting yourself those cars or is Gran Turismo 5 a forgotten memory for you? Let us know in the comments section below.
Other People Are Reading