Grand Theft Auto titles re-rated by ESRB for the PlayStation 3 only
| June 29th, 2012 |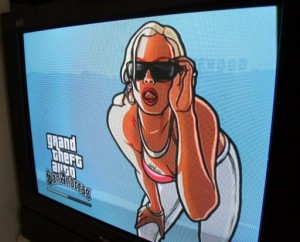 Grand Theft Auto 3 and Grand Theft Auto Vice City have both been re-rated by the Entertainment Software Rating Board indicating the games are set for release on the PlayStation 3.
Grand Theft Auto 5 may be in development at the moment but it seems that Rockstar are trying to fill the gap between now and the game's release by re-releasing two of games in the one of the best-selling video game series of all time.
According to the Entertainment Software Rating Board or the ESRB, which every gamer will know as the people who put the small black and white box on the covers of the games indicating what age the game is suitable for, both GTA titles have been rated for the PlayStation 3 console.
The games were originally rated for PCs, the PlayStation 2 and the Xbox, as those were the consoles on which the game was released, however, the fresh rating for the PlayStation 3 means that the games' release on the PlayStation 3 is 99% certain if not more.
All games have to be rated by the ESRB before they can be released to the general public and Rockstar has a habit of releasing games in the M (Mature) and R (Restricted) category, so the rating for them is perhaps more important than anyone else.
The game has been rated for North American audiences and no indication has been made as to whether or not the game will be released in other territories such as the United Kingdom and the rest of Europe.
One other console the games will not be heading to, for the time being at least, is the Xbox 360 as there was no sign of either GTA 3 or Vice City being released for Microsoft's console.
At the same time there was no indication as to whether the games would be released separately or as part of a bundle. Not only that but there is also no clear statement from any party, Sony or Rockstar, as to whether or not the game will be a digital release on the PlayStation Store only or whether or not it will be released on BluRay.
It seems that the rating has done what it always does in that it is raises more questions than it answers. Gamers will have to wait for the official announcement for the games before they get all the details.
Rockstar is currently overseeing the development of the latest instalment in the series, Grand Theft Auto 5, which many analysts believe is the only game that can rival the Call of Duty series in terms of sales and who knows maybe this is the year the game releases and shatters all previous records.
Rockstar has not given any hints as to when GTA V will be releasing but many have predicted that it will either be this holiday period or early next year at the latest.