PlayStation Vita getting Gran Turismo?
| June 19th, 2012 |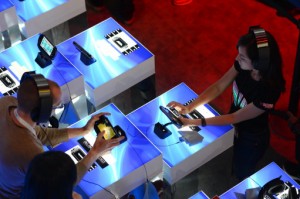 A recent survey hints at the possibility of Gran Turismo Vita making its way onto Sony's next generation portable gaming console, the PlayStation Vita.
When it comes to premier PlayStation exclusives the Gran Turismo series is the one racing game that only Sony consoles can boast. The racing simulator has been around since the days of PlayStation One and its emphasis on simulation rather than an arcade racing game have made it stand out from the competition.
Gran Turismo 5 was released after a lengthy development period and although critics felt that the game was unfinished, they could not find any fault in the driving mechanics or gameplay when it came to each car having its own unique feel.
A Mitsubishi Evo X handled differently from a Dodge Viper and luxury cars felt clunky-er than racing cars. Updates for the game were a regular feature as each iteration brought with it a host of enhancements including interior views for all the standard models as well as Premium ones.
For those unaware of the difference between the two, Gran Turismo 5 shipped with over a 1,000 in-game cars however, only around 200 of them were detailed to perfection. These polygon rich, picture perfect models were known as Premium models, complete with interiors.
On the other hand were the Standard models, which, to be honest, looked like they had been ported from the PlayStation 2 version of Gran Turismo 4 and given a light coat of polish before being thrown into the game. Handling wise each car was unique, however, visuals wise there were differences in quality.
Yet, if there is a list of games that Sony could use to boost the sales of its PlayStation Vita console, which has been struggling in the sales' department of late, then Gran Turismo will be up there among the top five names on the list.
A recent survey suggests that Sony is seriously considering releasing a Vita version of the popular driving simulator, after asking candidates to explain "how interested they would be in buying a PS Vita version of the latest Gran Turismo game." The survey went on to ask:
"Knowing that you might be able to get a discount on the PS3 version of the game, how interested are you now in the PS Vita version."
The page had the Gran Turismo logo followed by PS Vita in brackets and the options ranged from "Definitely won't buy" to "Definitely will buy".
It seems that Sony just want a bit of primary data before going ahead and developing the title for the handheld console, although in a day and age where cross platform play is being the next big thing, it would not be surprising if Gran Turismo Vita will be able to interact with Gran Turismo 5 or Gran Turismo 6 in some way.