Guild Wars dev, ArenaNet, takes stand against racism
| August 30th, 2012 |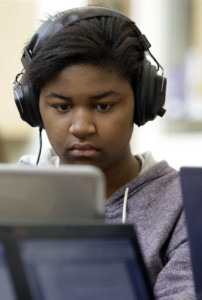 The developer is suspending players who provoke other players using racial slurs and abusive language, as the studio hopes to set a precedent and make a strong statement as well.
Anyone who has taken part in a competitive online multiplayer game has experienced the fluency in which profanity and racist remarks take place. With no police patrolling those areas, it is often up to players to either hope that the abusive player is kicked off the server or that a complaint is made, which takes time to process.
Players can always mute the offensive player, but there is still a feeling in the back of most peoples minds as to what the other person might be thinking. Although game developers do include a number of measures for preventing or stopping it, simply being kicked from a match does little to deter the offender, who can simply join another match and keep doing what he was doing.
That is before the developers of Guild Wars 2, ArenaNet, decided to take a stand and prevent cyber-bullying, cyber-racism and other cyber-abuse.
The studio, based in Washington, took to Reddit, to make the following statement and in the process have set a precedent for all other developers and publishers to follow.
The support representative from ArenaNet stated:
"To keep Guild Wars 2 a pleasant place to be, we take action against racist names, hate speech, and other unacceptable behavior."
The statement continued, "We have suspended some accounts involved in the use of offensive character names or inappropriate chat. The number of accounts blocked is miniscule: less than .001% of our total player base."
It may be a small step but it could have major consequences throughout the industry if it proves to be an effective deterrent. One question that comes to mind is how the studio plans on coping with the verbal abusive that takes place.
There is no way ArenaNet can have a moderator on every server, but at least they are making a start by monitoring the text based traffic in their games.
Users who were suspended have since taken up arms – not literally of course – and asked the studio what comments they had made to warrant the suspension, to which the ArenaNet released a list of the abuse they had dished out.
The list included a number of F-bombs, N-bombs and references to race and inappropriate fornicating between the player and their family members.
Whether or not the move proves to be effective remains to be seen but if it does work out and does curb the rampant abuse on the multiplayer platform then it could be a defining moment in the gaming industry. However, till then all players have at their disposal is the mute button and the complaint option.
Other People Are Reading