Heihachi and Toro revealed to be part of roster in PlayStation All-Stars Battle Royale
| July 9th, 2012 |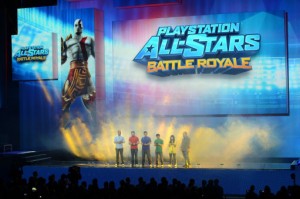 Sony has revealed two more characters for its upcoming cross-over fighting video game PlayStation All-Stars Battle Royale.
The announcement regarding the two new characters was made during SuperBot Entertainment's EVO presentation in Las Vegas last week.
While the fans of Namco Bandai's immensely popular Tekken franchise will instantly recognise one of the two new characters to be Heihachi Mishima, the fans outside of Japan may have a bit of trouble to identify Toro Inoue, a white cat that serves as Sony's mascot in Japan.
A 17-year-old veteran of the Tekken franchise and host of the King of Iron Fist Tournament, Heihachi, is expected to make significant contribution to PlayStation All-Stars Battle Royale. Excelling at close range attack due to his massive strength and quick strike, Heihachi is a popular choice among gamers to bring their opponent to their knees. Even though the Tekken series showed a gradual decline in his attack and reaction speed to exhibit the effect of age on his motor skills, the former head of Mishima Corporation still carried plenty of potential to deal quick and devastating blows. The slightest bit of hesitation shown by players to block an incoming attack could result in getting hit by a staggering punch or kick. His ability to chain punches, kicks and uppercuts together makes his potential for combos "among the best in the roster."
The other character joining the roster of fighters in the upcoming fighting video game is Toro. While he may be familiar to the Japanese gaming community as the official mascot for Sony since a decade now, there would hardly be anyone who is familiar with his fighting skills. Toro is said to have a "unique stance-based fighting style," which allow him to become a specialist in multiple forms. His "Justice form" makes him a close-ranged fighter, while the "Torobi form" allows him to deal damage from a distance. He also has an "Oni form" which has a wide-area attack.
Both Heihachi and Toro will be joining a cast of characters from other PlayStation titles, including Kratos from God of War, Big Daddy from BioShock, Fat Princess from Fat Princess, Mael Radec from Killzone, Nathan Drake from Uncharted, PaRappa from PaRappa the Rapper, Sly Cooper from Sly Cooper and Sweet Tooth from Twisted Metal.  There are far more characters rumoured to be in the game, though Sony is keeping their names under wraps for the time-being.
Aside from the announcement of two more characters, SuperBot Entertainment also revealed a new stage called "Dojo," which is based on the PlayStation One exclusive PaRappa the Rapper.
Sony has also announced bonuses for pre-ordering of PlayStation All-Stars Battle Royale, which include a set of exclusive costumes.
The game is slated for an October 23 release in North America, while it will arrive a day later in Europe, i.e. October 24.
Other People Are Reading