Hideo Kojima confirms Solid Snake as main protagonist in Metal Gear Solid film
| September 29th, 2012 |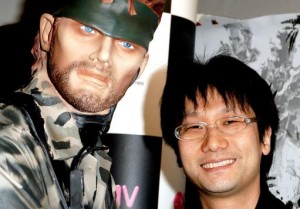 The Metal Gear Solid film is one of the hottest topics among the fans of the franchise, with them having mixed feelings about the whole idea of bringing the stealth action to the silver screen.
Much to their joy, the man behind the popular stealth action brand Hideo Kojima revealed a few details about the film during a developer session at the Eurogamer Expo that was attended by VC247.
After dwelling the suspense about who would be the main protagonist in the upcoming film, the fans will definitely be relieved to finally hear it from Kojima himself that it would be none other than Solid Snake himself.
There were a lot of speculations that touched the possibility of Big Boss holding the torch in the first-ever Metal Gear Solid film, but it is now confirmed that the team behind the project has others plans.
The fans are expected to feel glad about the film starting off with Solid Snake as that is exactly how the first title in the immensely popular video game series started off.
Kojima also shed a bit of light on his attachment with the film, making it clear that he was neither directing the film nor writing a script for it. He did, however, concede that he was going to be very much part of the team working on the film and take on a more supervisory role. What exactly is he going to do is something that we would love to find out. Hopefully his responsibilities will involve ensuring that the big screen experience is as close to the game as possible, as any significant deviation is guaranteed to add the film to the long list of forgettable film-adaptations of video games.
One of the biggest mystery that everyone has been wondering about ever since the announcement of the film is the identity of the actor who would be playing the role of Solid Snake.
Kojima appears to be well aware of the fact that the fans are anxious to know about the actor and that is why he did not completely avoid the topic.
He conceded that he and film producer Avi Arad had initially considered Hugh Jackman, well-known for X-Men, The Fountain and Real Steel, for the role of Solid Snake.
However, in the end they rejected the idea and have decided to go for a new-comer instead of bringing in an actor who is already well-known.
It would indeed be interesting to see how the Metal Gear Solid film turns out. There are only a handful of film adaptations of popular video games that have gone down well with the fans, which include Mortal Kombat. Majority of the films, however, have been nothing short of disappointing, causing gamers to flinch at the very thought of their beloved video game franchises being turned into motion pictures.
Other People Are Reading