Is Sony's PlayStation Vita worth a buy?
| September 3rd, 2012 |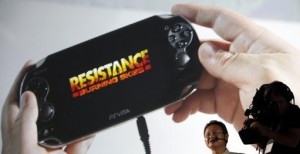 Part 5:
The Augmented Reality games can be counted on one's fingertips with the most notable being Reality Fighter, Cliff Diving, Table Top Tanks and Fireworks. There are others as well but these are the only ones worth checking out.
Reality Fighters is an interesting title but is more of a novelty and is not deep enough – gameplay wise – to having any lasting appeal. Fireworks and Cliff Diving are fun titles that do not take themselves too seriously with the former hypnotizing beautiful at times.
However, none of those titles warrant a purchase but to be fair both Fireworks and Cliff Diving are available for free from the PlayStation Network.
The content on the Vita received a major boost recently when Sony announced a plethora of PlayStation One titles that are now available for download and playable on the handheld console.
The list included the likes of Syphon Filter, Tomb Raider, Crash Bandicoot, Resident Evil and Metal Gear Solid among others. Those titles should keep those with a longing for nostalgia or new gamers wanting to experience classic titles happy but for the core Vita gamer there really is very limited choice.
All that is set to change though, as a number of new titles have been announced. Activision is working on bringing Call of Duty: Black Ops: Declassified to the console and Ubisoft is busy hyping up Assassin's Creed 3: Liberation as well.
Meanwhile Sony has a number of in-house studios working on bringing new IPs and exclusive titles on to the Vita as well. Guerrilla Games showed off Killzone: Mercenary and Media Molecule is working on Tearaway while gamers can expect the cross-platform title, PlayStation All-Stars Battle Royale to be released soon.
However, those games will be released over a certain period of time and the question being asked is whether the Vita is worth a buy right now.
Accessories:
There are a number of accessories available for the console but there is only that every user must have and that is a memory card. The cards can cost as little as $20 and as much as $100 for the highest storage capacity and one needs to invest in at least 8GB if they want to enjoy the bare minimum of what the Vita has to offer.
Screen protectors, car chargers and travel kits are all accounted for in the market meaning that there is enough to keep the Vita safe and mobile, so at least on the accessories front, the Vita is looking like a complete package, albeit barring the price of the memory cards.
read on by clicking here.
to read the previous part of this article click here.
Disclaimer: the views and opinions expressed in this article are the writer's own and do not reflect the editorial policy of wishfree.com
Other People Are Reading