Kickstarter campaign for new Elite game begins
| November 8th, 2012 |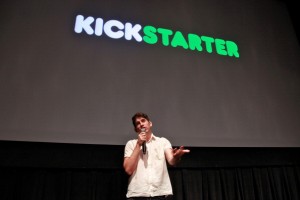 Elite is attempting to make a comeback to PC by March 2014, with the franchise's co-creator David Braben looking to touch the target of $1.25 through the crowd-funding website Kickstarter.
The new space simulation franchise is being developed by Frontier Developers, the same studio that produced RollerCoaster Tycoon 3, Disneyland Adventures and various other renowned titles.
One of the problems that majority of the developers face when a creative idea pops into their mind is money.
No matter how great the idea is, it has no future as long as some publisher agrees to support the developer by taking responsibility of the finances and thus providing resources.
Kickstarter, however, has been launched to help developers, whether big and renowned or small, to raise funds for their projects directly through public instead of knocking at the door of some publisher, which more than often prefer to invest in games that have either established themselves as profitable or have a huge team of renowned developers working on it.
After a series of failed starts, Frontier Developments has decided to commit to the development of Elite: Dangerous and in order to keep the process going, they have turned to the public for money.
Aiming for a figure of $1.25 million, the studio has already raised $295,222 through the pledges of 3,881 backers, which is great since the campaign is in its early days and still have 59 days to go before it shuts down on in the opening week of next year.
Braben and his team are aiming to make Elite: Dangerous an epic experience that would feature both stunning visuals as well incredible gameplay.
Multiplayer, trading market, freedom to customise ships, a reputation-based system that will have an effect on the game world, all these things are going to be part of the release that is being developed for PC.
Both Braben and Frontier Developments will definitely be high on confidence after looking at the response gamers gave to Kinectimals, Kinect Disney Land and Lost Winds and thus are expected to show-off their magic in the latest Elite game as well.
"Looking at all the high quality games we at Frontier have produced, from RollerCoaster Tycoon 3 to Kinectimals to LostWinds to Disneyland Adventures, I think the risk of non-delivery is small. We already have a large team who are very experienced at delivering complicated projects, and the key high-risk components (like networking) are already in place. If necessary then we will delay the release beyond March 2014, but I do not believe we will need to do so," said Braben.
The first Elite game came out in 1984, whereas it was followed by Frontier: Elite and Frontier: First Encounters in 1993 and 1995.