Kratos vs. Leonidas, God of War: Ascension gets exclusive bonus
| October 25th, 2012 |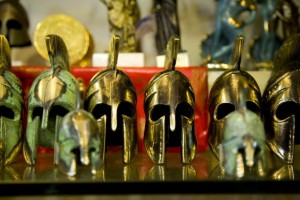 GameStop is offering gamers a chance to have King Leonidas, from the motion picture epic, 300, a part of their God of War package as they announce the character's armour and spear, as well as a double-sided poster for those who pre-order the game.
Gerard Butler's likeness may not be in the game but everything else about his iconic character is as Sony continues their Hollywood-mixed-with-video-game promotions, as Leonidas, immortalized by his 'This is SPARTA!' line will feature in the upcoming God of War game.
Sony recently paired Total Recall with God of War: Ascension as well, as anyone who purchased a copy of the film's BluRay would get early access to Ascension's multiplayer beta.
This time around the link is more direct as players will be able to have one of the characters from the movie, or his armour and spear at least, in the game and that too playable.
Sony made the announcement on their official blog. It read:
"For the first time ever, King Leonidas will be brought to life in God of War: Ascension's multiplayer as depicted by Gerard Butler in the blockbuster film "300". If you pre=order God of War: Ascension standard or collector's edition at GameStop, you will receive a voucher code that gives you access to history's most heroic Spartan."
It continued:
"We are very excited to partner with Warner Bros Interactive Entertainment to offer you the chance to play as one of the biggest badasses in Greek history on the God of War: Ascension multiplayer battlefield."
Sounds appetizing.
The announcement continued with the news that player would be "Donning King Leonidas's red cape, iconic helmet, and armour" and that the multiplayer skin would come with its own unique set of combat moves, separating him from the rest of the lot.
That was not all as those who pre-order from GameStop also get a 22" by 28" Double-Sided Poster to adorn their walls with. Throw in the Kratos figurine and all the extra Collector's Edition goodies and this is looking like a deal that will tempt nearly every God of War fan.
God of War: Ascension is set for a 2013 release and there is plenty of hype surrounding the title, which happens to be a prequel to the series. One can expect plenty of blood, violence and gore as the series is not known for holding back on that front.
At the same time, the game is being met with some skepticism as fans are worried that the overall story arc was completed with God of War 3 and are wondering how the developers are going to keep things fresh.
The solution seems to be multiplayer and only time will tell how that is going to work out.