Kurt Sutter invites Rockstar Games to make the Sons of Anarchy game
| November 1st, 2012 |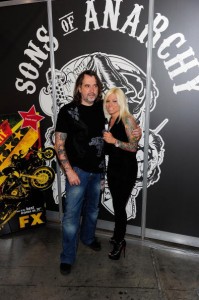 Sons of Anarchy creator Kurt Sutter has turned towards Grand Theft Auto maker Rockstar Games to work on the biker drama game.
The franchise creator admitted that working on the project would prove to be nothing short of an uphill battle, but the challenge is nothing that cannot be bested through collaborated effort.
In his recent post on the social networking and micro-blogging website Twitter, Sutter directly addressed the Grand Theft Auto publisher, suggesting that the latter should take on the Sons of Anarchy game project.
He noted that the project would be quite demanding, as the development process is going to be both expensive as well as complicated, but invited the studio to talks in order to find a viable solution to whatever challenges and obstacles possibly await them and try to get the development of the game underway.
The game based on the FX biker drama show has been trying to get a move on for quite some time now, but things have not exactly being going Sutter's way despite looking promising in the start.
The show creator had tweeted earlier this year that he had conducted meetings with a big publisher, with the latter as well as both FX and Fox showing a great deal of interest in getting started with the game and making it happen.
However, a few months later, Sutter conceded that the game was struggling to find traction as the publisher had blew them off and therefore it seemed that the project would not get to see the light of day.
That did not deflate his hopes and determination to see the popular cable series transform into a video game experience and thus he recently made a suggestion to Rockstar Games to work on the project.
Sutter is turning towards big publishers instead of setting his sights on a relatively low profile one as he wants to make absolutely no compromise on the quality of the game and the experience that it eventually presents.
"[Games have a] huge upfront cost. Games are in decline," he said earlier this year. "It's very risky. As a gamer, it's my responsibility to deliver a great game. Not some 1/2 promotional piece of sh*t like [Game of Thrones]. To do that means time/$$$."
The Game of Thrones game was indeed nothing to write home about and did absolutely no justice to the quality and reputation of the show, thus setting up an example for other show creators to never follow in its footsteps.
Rockstar Games is currently working on the highly anticipated fifth instalment in its immensely popular Grand Theft Auto franchise, which is due to come out in spring 2013.
The publisher has not yet responded to Sutter regarding the possibility of working on the Sons of Anarchy game.