Latest patch for Diablo 3 restricts full client play for new purchasers until verification of payment
| June 24th, 2012 |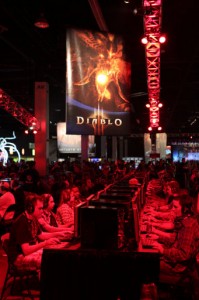 With the release of patch 1.0.3 for Diablo 3 by Blizzard on Wednesday, the digital purchasers of the game will be restricted to Starter Edition until the payment is verified.
Players who bought their copy of the third instalment in the Diablo franchise through a digital channel will be temporarily limited to a level 13 cap and will not be able to proceed beyond Act I Skeleton King for a period of up to 72 hours.
Patch 1.0.3 will also restrict access to the Auction House and Global party for new digital purchasers.
Kaltonis, a support forum agent on Blizzard's website, came out to explain the reason for the delay in giving new players full access to the complete features of the game in a thread. According to Kaltonis, imposing a temporary restriction is an important step in order to minimize fraud and curb malicious activities, both of which take a toll on the overall online experience for gamers.
The America-based developer admitted that while it intended to temporarily restrict the access of new digital players to full features of the game, the level cap and no progress beyond ACT I was not planned.
The security measures put in place by Blizzard were only meant to temporarily keep the unverified digital accounts from accessing public games, Auction House, global play and prevent them from chatting in public and game channels.
"However, as an unintended consequence of these security measures, players who purchase the game digitally after patch 1.0.3 are temporarily being capped at level 13 and not able to proceed beyond Act I. We are working to correct this as soon as possible and will provide another update when we have more details to share," Blizzard conceded.
While the security measures to prevent fraud are understandable, a few analysts feel that Blizzard should not have waited until the launch of the game to put such measures in place. After spending years on Diablo 3, the developer was expected to come up with a more acceptable way to safeguard the online experience and ensure player's security.
After making the fans of the franchise wait for years, Blizzard had released the third instalment earlier this year. The action game became an instant access, receiving a warm reception across the globe. However, things got a bit rocky for Blizzard after complains about log-in problems and slow connection began to pour in. The game's launch in South Korea quickly turned into a nightmare for the developer as they were forced to offer refunds to the players who either completely failed to access the servers, or were unable to enjoy the experience due to the limited capacity of battle.net. Blizzard has acknowledged the problems being faced by the gamers and already started to work on increasing the capacity of servers.