League of Legends Season 2 World Championships breaks eSports viewership record
| October 23rd, 2012 |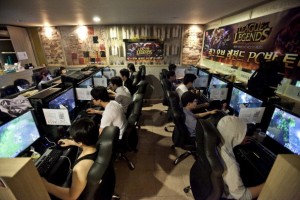 A few weeks back, Riot Games was aiming to make the League of Legends Season 2 World Championships the biggest eSports event in history.
As per the stats revealed by the company recently, this particular objective was accomplished and that too with a pretty convincing margin, shattering all previous records of online viewership.
"It was obviously an honor to be asked to commentate the Season 2 World Final, the viewing figures are amazing", Leigh "Deman" Smith, broadcaster for the Season 2 Championships, told GameSpot. "To think that we were being watched by similar amounts of people as a major sport gets legitimizes what we in eSports have been driving for the last 10 years plus to achieve. It was truly a great moment in eSports history I can say I was a part of."
The event went down at the Galen Center Arena at the University of South California in Los Angeles and comprised of both the World Playoffs and Finals, running over the course of two weekends.
With a huge prize purse on offer, the matches turned out to be phenomenal in terms of action. Once the dust settled, however, it was the Taipei Assassins who walked away with a prize of $1 million by getting the better of Korea's Azubu Frost in the Grand Finals that took place on October 13.
According to the numbers revealed by Riot Games, the peak online viewership by unique audience touched the figure of 1, 154,000.
While the online viewership alone was really impressive, the number of viewers became even more striking when TV viewers were taken into account, which took the overall figure to 8,282, 000.
It appeared that event had the largest following in Korea and China, with 2,402,225 viewers catching the exciting the League of Legends Season 2 World Championship action via TV.
With the concurrent online viewership going over the 1.1 million mark, League of Legends Season 2 World Championships has set up a new record by shattering the previous record that was set up during the Major League Gaming, which brought in 437,000 concurrent viewers and 4.7 million unique viewers for the Spring Championships that was held in June earlier this year.
Valve had the boasting rights for the most viewership prior to that after attracting 567,000 concurrent viewers, half of which were from China, during the International Dota 2 tournament.
The rise in the number of people using the online medium such as Twitch TV and Own3d TV has resulted in the record of most viewership getting broken a number of times last year and while the recently concluded League of Legends Season 2 World Championships is in the front at the moment, one can hardly expect it to hold for long.