Lego: Lord of the Rings arrives for 3DS, DS and Vita, to hit consoles and PC in mid-November
| November 1st, 2012 |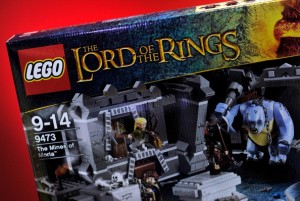 The fans of the Lord of the Rings franchise can rejoice as Lego: Lord of the Rings has been released on Nintendo's 3DS and DS, as well as PlayStation Vita.
The console and PC version of the game is scheduled to hit the North American region on November 13, whereas the European release will follow in ten day's time on November 23.
The Oscar-winning motion picture by Peter Jackson based on the three-part novel Lord of the Rings by JRR Tolkien has garnered an immense amount of success over the years, but it seems that the fans just cannot seem to get enough of the Fellowship of the Ring.
In an attempt to sate the seemingly never-ending hunger and desire of the fans, Lego: Lord of the Rings has arrived, allowing the hardcore fans of the franchise to once again take control of Frodo Baggins and his companions as they embark on the mission to destroy The One Ring forced by Lord Sauron in fiery depth of Mount Doom.
The tale will begin from the point when the fellowship comprising of a mix of different races is formed at Rivendell.
Upon the formation of the fellowship, the adventure begins, featuring the journey of the unlikely fellowship through the ominous Mines of Moria, over the Misty Mountains and various other all too familiar places, while battling against numerous challenges, which include but are not limited to balrog, orcs and uruk-hai.
Aside from Frodo, players will also be able to control Aragorn, Gandalf, Gimli, Legolas, Boromir, Merry, Sam and Pippin during the course of their journey to Mount Doom in the heart of darkness itself, Mordor.
The One Ring will once again pose a grave threat to the entire Middle Earth and thus it would come down to the fellowship to prevent the reign of darkness and chaos from taking over and keeping the land from getting doomed.
Lego: Lord of the Rings will exhibit some characteristic elements of the Lego franchise, such as puzzles and teamwork.
Unlike Lego: Harry Potter, the Lego version of Lord of the Rings will be featured on one game instead of being split over two games.
While Lord of the Rings has made an ever-lasting impact in the world of both novels and cinema, the franchise has struggled to earn itself a good reputation in gaming industry.
The previous games have not been something to write home about, except for maybe Battle for Middle Earth, which too was criticised for bearing some apparent likeness to Command and Conquer: Generals.
While Lego: Lord of the Rings is likely to make a solid impact on the portable gaming systems, it remains to be seen how well the game does on PlayStation 3, Xbox 360 and PC.