LittleBigPlanet dev working on a number of new IPs
| July 4th, 2012 |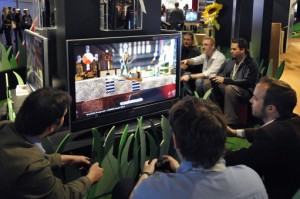 Media Molecule has teased that it is early stages of development of a number of new titles. However, they did not specify which console they were developing for.
Anyone who is familiar with the PlayStation brand will have heard of the LittleBigPlanet series. With two core titles, LittleBigPlanet and LittleBigPlanet 2, having been released to both critical and financial success as the series also branched out into a number of off-shoots.
LittleBigPlanet was released for the PlayStation Portable and it helped boost the sales of the console at a late stage. The title was fully compatible with the levels and content created on the PlayStation 3 version of the game as well, making it a completely integrated experience.
PlayStation Move compatibility was added as well before the game's developer, Media Molecule, announced that they were leaving the LittleBigPlanet series in order to pursue other projects. While they were busy focusing on their next project, Sony took the opportunity to announce two other titles in the series.
LittleBigPlanet Karting looks to emulate the success of the Mario Karting series while at the same time building on the foundation laid by ModNation Racers. It should come as no surprise then that the LittleBigPlanet Karting game is being developed by the same studio behind ModNation Racers for the PlayStation Vita.
That is not all as a full-fledged LittleBigPlanet game is set for release on the PlayStation Vita as well. However, that title is not being developed by Media Molecule either.
The studio has now teased that it is working on a number of titles, all of which are new IPs. The reports have emerged as a result of a number of job listings posted by the development company. The job adverts start off, ""At Media Molecule, we are currently working on brand new IPs, even more ambitious than LBP was when it was conceived 6 years ago."
One thing that is near certain is the fact that Media Molecule is not working on another LittleBigPlanet title after the studio stated that they had pretty much made the series self-sufficient in terms of generating fresh, new and exciting content for the game.
Players can create levels and items within the game and share them with other users and so far over two-million levels for the game have been created so far with the count rising by the minute.
Another question that comes to mind is which console the studio is working on, in terms of their upcoming projects especially with the PlayStation 4 rumoured to be well in development.
Is Media Molecule working on a PlayStation 3 title, a PlayStation Vita title or maybe even a PlayStation 4 title? Let us know your thoughts in the comments section below.