LittleBigPlanet Vita development complete
| September 4th, 2012 |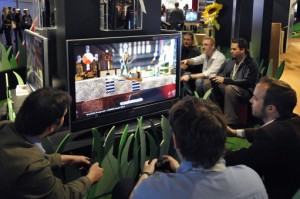 Sony announce that the title has gone Gold and is right on schedule ahead of its September release date. The game is one of many titles set for release over the next few months as Sony looks to provide more content to its Vita user base.
In the video game industry, when a game's development process is complete and it is ready to be transferred onto physical media or ready to put up online for download, it is termed as having gone 'gold'.
So in essence, LittleBigPlanet Vita has had its last line of pre-release code written and is in the process of being written on those tiny Vita memory cards as well as being transferred onto the PlayStation Store as we speak, or rather type.
The game is set for release on the 25th of September in the United States and Vita owners in Europe can get their hands on the game a week earlier on the 19th of September.
LittleBigPlanet is one of the PlayStation brands most successful titles both in terms of sales as well as review scores. The game allows players to create and share their own levels and on the last check the number of user created levels had crossed the five million mark, with no signs of slowing down.
The Vita version is set to build on that success and give the console a much needed boost both in terms of content as well as sales, where the Vita is lagging behind.
Sony has reiterated its stance on how it believes that content will boost sales of its console and they seem to be sticking to their plan as they continue to ignore the cries of a price cut from a number of analysts.
LittleBigPlanet will be a major test of that policy as the title is one of few that could see an increase in consumer interest in the Vita. The game will come with both a BioShock Costume Pack as well as Knights of Old Costume Pack as well, that is as long as gamers pre-order their copies of the game.
Consumers will see the game as a first of many first-party and third-party triple-A titles promised by Sony as the game will be followed by the likes of Assassin's Creed 3: Liberation and Black Ops 2: Declassified in the holiday season.
Next year, Sony seems to be planning a major push for the Vita as they have announced Killzone: Mercenary as well as Media Molecule's latest title, Tearaway.
But what about the readers; does LittleBigPlanet excite them enough to buy a Vita, if they already haven't, or are they still waiting for that killer Vita game before they invest in the console? Let us know in the comments section below.
Other People Are Reading