Madden NFL 13 scores a touchdown in the US sales charts
| October 15th, 2012 |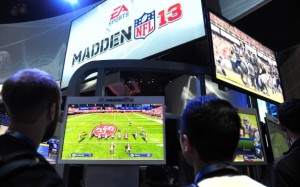 There was no way around that cliché as EA Sports will be glad to know that along with FIFA 13, the American Football game also topped the charts in the land where men play football with their hands.
The monthly sales charts for the United States are in and make for some interesting, albeit rather predictable, reading.
In tenth place is EA's premier first-person shooter, Battlefield 3, which managed to take some of the thunder away from the Call of Duty series, despite the latter's financial success. It will be interesting to see how the two games compare the next time they are released and to see whether or not Battlefield can gain more ground on its phenomenon of a rival.
In ninth place is Lego Batman 2: DC Super Heroes, which is benefiting from its multi-platform release as the game manages to sell across every console well enough to keep it in the top ten.
It's more senior cousin may be higher up the charts but that does not mean that NCAA Football 13 isn't getting its due attention as the game ends up in seventh place in the charts.
The expansion pack for one of the world's most played games comes in at number seven, with World of Warcraft: Mists of Pandaria, one of two PC exclusives in the charts at the moment.
It's almost all sports in the top ten as the sixth best-selling game for September happens to be NHL 13. The latest iteration is hailed as one of the deepest, most immersive yet and one can expect it to stay in the charts for a few more months at the very least.
Rounding up the top five now and in fifth place is the second PC exclusive, Guild Wars. The game shows another strong RPG showing from the PC community as one can expect it to remain in the top few places for quite a while.
In fourth place is the Nintendo 3DS exclusive, New Super Mario Bros. 2, which recently crossed the million units sold mark in Japan and isn't doing too bad for itself in the United States either.
FIFA Soccer 13 manages to hold on to a top three spot in the charts as it seems there are a considerable number of Americans who would kick the ball instead of throw it.
Borderlands 2 ended the month in second place, although the figures for the digital sales left some room for debate. The game's unique art-style and narrative are sure to attract a number of fans to the game.
However, topping the charts on its month since release is Madden NFL 13, which managed to sell 11% more copies than its predecessor during its first month.
Other People Are Reading