Mario creator and Metroid developer working on plenty of big projects, reveals Reggie Fils-Aime
| October 2nd, 2012 |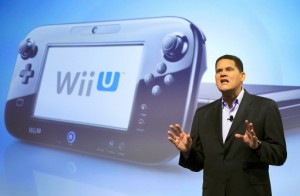 The clock is continuing to tick, bringing us even closer to getting our first taste of Nintendo's next-generation hardware, the Wii U.
The console may not have managed to excite the fans at this year's Electronic Entertainment Expo (E3), something that Nintendo had hardly expected, but it turns out that the Japan-based company still had plenty of aces up their sleeves that they were saving for a later date.
Nintendo of America president Reggie Fils-Aime conceded while speaking during the latest edition of Game Trailers TV show that two of the company's biggest aces Shigeru Miyamoto, the man behind the Mario franchise, and developer Retro Studios, creator of the Metroid Prime franchise, are already working on "fantastic projects" for the upcoming console.
"I could get myself fired by breaking all of the news right here on your show… but rest assured Mr. Miyamoto and the team and EAD are working on fantastic projects. Rest assured that Retro is working on a fantastic project," he said. "We've got big games in development that are coming and will continue to drive the install base of the system. All of that's going to be there."
This news is bound to get the fans excited because they are well aware of what both Miyamoto and Retro Studios are capable of putting on offer.
The Mario franchise has been one of the key factors for the success of Nintendo consoles all these years, while the impact of Metroid on the gaming community is something that is matched by very few franchises even to date.
While Fils-Aime did come out to reveal that there were big games in development, he did not reveal the exact time at which these mystery titles would be revealed to be world.
The most likely bet, according to him, for the announcement of these titles is next year's E3. However, he did add that this was not certain and thus the company might end up announcing the titles before the gaming event or after it.
Nintendo has already revealed a large list of games that its console will be launching with, which include a new Mario game as well as a Pikmin title.
Many fans were disappointment after learning that there is no Zelda or Metroid game in the list of launch titles, but the company assured them that a new Zelda game is already in the works and is scheduled to hit the market in 2013.
Majority of the industry analysts have written Wii U off, expecting it to struggle to do well in the market, especially after Sony and Microsoft announce their high-end consoles.
However, Nintendo appears to be pretty confident about its next-generation console. The optimism on part of the company hardly comes as a surprise after looking at its exclusive titles.
Other People Are Reading