Mass Effect producer asks fans to give suggestions for next game in series
| November 12th, 2012 |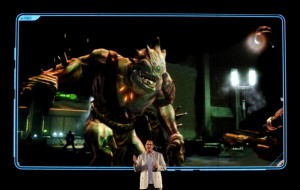 In 2007, BioWare gave the Xbox 360 and PC enthusiast a game that raised the quality bar in the third-person shooter to an entirely new level.
Mass Effect is not just a game, it is a complete experience, comprising of great action, lots of emotions and a gripping storyline.
The fans of the franchise knew that one day that the characters that they have grown to love will fade away and their fears finally caught up with them earlier this year when the third and final instalment in the Mass Effect game came out, marking the end of the trilogy.
However, publisher Electronic Arts (EA) and developer BioWare did not let the fans dwell in depression for too long by announcing that the franchise is far from over as there are still plenty of more stories to tell.
Last month, the Mass Effect makers had revealed their plans for the fourth title in the series, though it was confirmed that Commander Shepard, the main protagonist in the first-three games, will be notably missing from it, something that does not come off as a shock for those who watched the ending of Mass Effect 3.
A few days earlier, the executive producer of Mass Effect 4 Casey Hudson conceded via the social networking and micro-blogging website Twitter that the work on the next sci-fi role-playing game (RPG) third-person shooter has kicked-off.
He also asked the fans to share their ideas with him in order to give developers a better idea of what they would like to see in the next title in the series.
"We're in early stages of designing a completely new Mass Effect game. What would you want to see in it?" he asked.
There are two things that the fans are most likely to request form the developers. The first is to see the return of Commander Shepard despite the confirmation by the studio that he is gone for good.
The second request is probably going to be for a better ending than the one that was thrown at them at the conclusion of the previous trilogy.
BioWare has asserted from time to time that it has always given lots of importance to the fan feedback and used it as a guideline to create an experience that is as close to their expectations as possible.
An example of this commitment comes from the time when after accompanying Commander Shepard in his inter-galactic battle against the Reapers and their followers, majority of the fans were disappointed with the way the story ended in Mass Effect 3, describing it as vague and incomplete.
The negative fan feedback drove the developer to release downloadable content (DLC) in an attempt to add clarity to the ending.
What would you like to see in the next Mass Effect game? Do share your ideas with us and your fellow readers in the comment section below.