Master Chief's Halo 4 knocks Connor's Assassin's Creed 3 off the top
| November 13th, 2012 |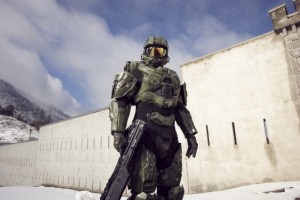 United Kingdom: the weekly software charts see plenty of movement as Master Chief marks his long awaited return to the gaming world in style, while Assassin's Creed 3 can do little to hold on to the top spot and surrenders it to the Spartan.
The Holiday Season is in full-swing, at least in the video game world as the major releases are coming thick and fast. Black Ops 2 has just been released and looks set to shatter sales records, as is now the tradition of the Call of Duty series. However, in the meantime the best-selling entertainment product for 2012 belongs to Halo 4, which has amassed over $300-million since its release worldwide.
Black Ops 2 may more than double that but until the figures aren't released later on in the week, Master Chief remains the king as the game tops charts in both the United States and the United Kingdom.
For the week ended November 10, the United Kingdom saw Halo 4 replace Assassin's Creed at the top spot. Microsoft has already announced the fact that Halo 4 is the biggest entertainment product launch of the year, despite not selling as well as some of the earlier entries in the series. The latest game, helmed by 343 Industries, has received praise from fans and critics alike for living up to the hype and expectations.
Assassin's Creed 3 spent only one week at the top of the charts, however, Ubisoft will not be complaining as the game managed to become the publisher's fastest-selling game in its history. The game swapped the setting of the previous games for the American Revolution and fans seem more than happy with the change in scenery.
Still holding on to a place in the top three is FIFA 13, which happens to be the best-selling sports game in history. EA is struggling with patching and updating the game, which has more bugs than usual but the game is still solid.
Need for Speed: Most Wanted is developed by the creators of the Burnout series and Criterion has brought its ability to deliver heart-stopping, adrenaline pumping action to the Need for Speed franchise and arcade racing fans are loving every second of it as it comes in at number four.
In fifth place is Football Manager 2013, which is being hailed as one of the most authentic experiences to date as players look to see if they could do better than their club's current manager or not.
That is it for this week as we only take a look at the top five, although it should be pointed out that Medal of Honor: Warfighter has slipped down to tenth place.
See you next week when Black Ops 2 looks set to knock Master Chief off his perch.
Other People Are Reading