Medal of Honor and Assassin's Creed 3 invade Japan
| November 29th, 2012 |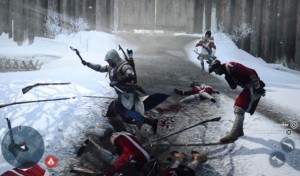 The weekly software sales charts are in and on the software front, Warfighter and Assassin's Creed 3 and Liberation both debut in the top ten, while Animal Crossing: New Leaf remains number one.
A number of western titles make their mark in the Japan but it's the local titles that continue to dominate the charts.
Animal Crossing: New Leaf came one step closer the 1-million units sold mark with another quarter-of-a-million units worth of sales in the previous week. Nintendo will more than pleased with the game's performance on the sales front thus far and will be hoping that the positive trend continues into the New Year.
Selling an impressive 72,504 units on its debut in Japan is Ubisoft's latest instalment in the Assassin's Creed series with Assassin's Creed 3. While it may not have sold as well as it did in Europe or North America it did do well enough to come in second in the charts, which is impressive for a non-Japanese title.
New Super Mario Bros. 2 continues its reign in the top three and is inching ever closer to the 1.5-million units sold mark after selling over 40,000 units in the previous week. The game's lifetime sales stand at 1,385,212 units.
Another new entry in the charts is Summon Night 4 for the PlayStation Portable. The console is still doing well for itself in Japan, where it continues to hold the interest of gamers and consumers, both in terms of hardware and software.
First-person shooters aren't really all that big in the area either, however that has not stopped Medal of Honor: Warfighter from debuting in the top five with a total of 25,097 units sold. That number can be expected to decrease as time wears on.
It is rare for many PlayStation Vita titles to debut in the top then but Assassin's Creed: Liberation is an exception. It may not be the huge release Sony was hoping for but debuting in at number six is not a bad start, especially if one considers the fact that it missed out on the top five by less than a thousand units worth of sales.
Apart from that Need for Speed: Most Wanted also debuted in the top then with a total of 13,383 units sold in its opening week, as it finished in eight spot.
Monster Hunter 3: Ultimate Edition, another new entry, came in at number nine and Tales of Xillia 2 rounds up the top ten for another week.
1. Animal Crossing: New Leaf
2. Assassin's Creed 3
3. New Mario Super Bros. 2
4. Summon Night 4
5. Medal of Honor: Warfighter
6. Assassin's Creed 3: Liberation
7. Dynasty Warriors 7: Empires
8. Need for Speed: Most Wanted
9. Monster Hunter 3: Ultimate
10. Tales of Xillia