Medal of Honor Warfighter 1- hour trial added to PlayStation Plus
| October 24th, 2012 |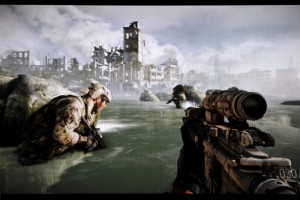 The PS+ Update brings EA's first-person shooter to subscribers as well as a 10% discount on Need for Speed: Most Wanted.
No free games this week, but there is still plenty to keep PlayStation Plus subscribers happy and snobby at the same time, as Sony is giving subscribers to their premium service the chance to try out Medal of Honor: Warfighter for free before they purchase it.
While it is not exactly a demo per se, the game, complete with all of its features, will be available for download and gamers can give the game a go. It will come with both the single player and multiplayer component as well, so players can choose what they want to try out.
However, there is a catch, as this is not a regular demo, but rather a trial as gamers will only be allowed access to the game for an hour.
The Exclusive Timed Trial was described by Sony as "Medal of Honor: Warfighter is set to deliver an aggressive, gritty and authentic experience that puts gamers in the boots of today's most precise warrior, the Tier 1 Operator. Plus members will get to have their hands on the full game for 1 hour and get an enhanced peek into the action they can download when it releases at retail and on the PlayStation Store as part of the Day 1 Digital event with the 10/23 update."
So if anyone is on the border about whether or not they want the game and have PlayStation Plus subscription then the trial could be the perfect fix for them.
At the same time, no PlayStation Plus update is complete without the obligatory discount announcement and this week sees the price of Need for Speed: Most Wanted slashed by 10% or $6.
Available from retail outlets for $59.99, Sony is hoping to bring some business their way as they are offering Criterion's second take on the Need for Speed universe with a Pre-Launch Week discount that brings the price down to $53.99.
The game, developed by the creators of the Burnout series, has already been receiving rave reviews and looks set to breathe new life in the series that had lost its way somewhat, especially with The Run.
At the same time, those looking for some extra Hell Yeah! Wrath of the White Rabbit can now purchase and download the Pimp My Rabbit and Virtual Rabbit DLC with a 20% discount, exclusive to PlayStation Plus members.
The final offer comes with a massive 80% discount on Wonder Boy in Monster Land, which is now priced at $1.
That is all for another PlayStation Plus update keep it here to find out what Sony is offering next week, same time, same place.