Medal of Honor: Warfighter and the Killzone Trilogy hit PSN
| October 22nd, 2012 |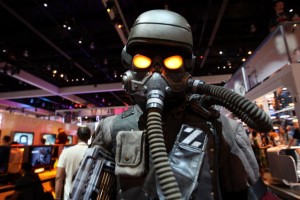 A number of titles have been released on the PlayStation Network including the likes of The Darkness II, The Unfinished Swan and Street Fighter X Tekken.
The latest update for the PlayStation Network sees the PlayStation Store inundated with titles both new and some that are not so new as well. On offer are some titles from the PlayStation 3, some for the PlayStation Vita and some for both.
Starting off with the games that are available on both the PlayStation 3 and its portable cousin, the PlayStation Vita.
Street Fighter X Tekken is now available for download via the Store for both the home and portable console.
At the same time so is Super Monkey Ball: Banana Splitz, which is set to bring the classic series to the Vita for the first time, while those who do not own the portable console can also enjoy the game on their PlayStation 3 systems.
The last title available for both consoles simultaneously is Zero Escape: Virtue's Last Reward. The sequel to the original game in the series, the puzzler should intrigue fans.
A few PlayStation 3 titles now, excluding those available on the PlayStation Network, and we have Cabela's Hunting Expeditions and Cabela's Dangerous Hunts 2013, both set for release this week.
As for some of the more notable titles, Medal of Honor: Warfighter is set to release this week and will be available as a Day 1 release on the PlayStation Store as well. Sony has been pushing their digital distribution platform to be the number one choice for consumers and this seems to be the latest entry in that effort.
At the same time fans of the Killzone series as in for a treat as well with The Killzone Trilogy also releasing within the next seven days. The collection brings all three installments in the series together with the PlayStation 2 title, Killzone 1, remastered in HD.
Another in a long line of unique titles to hit the PlayStation Network is The Unfinished Swan, which was earlier only available for PlayStation Plus subscribers. The game is now on offer for everyone else to download, explore and get lost in.
Another PlayStation Plus exclusive that is now available for everyone is the Single Player Campaign for Starhawk.
Lastly, The Darkness 2 can now be downloaded via the PlayStation Store as well.
On the Vita front, Frobisher Says, a free to play title from Sony, is set to bring something for those who want a family friendly title while Orgarhythm is another title looking to rival Lumines: Electronic Symphony in the charts as well.
Finally, the last game on to be added to the list of offers on the PlayStation Network is the PlayStation 2 Classic, Winback: Cover Operations.
Other People Are Reading