Medal of Honor: Warfighter tops the charts despite poor reception
| November 1st, 2012 |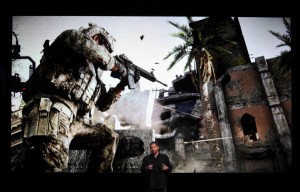 United Kingdom: the weekly charts are in and it seems FIFA 13 did not survive a well-executed ambush by the various Tier 1 Operatives from around the world.
Starting things off at the bottom of the top ten and Capcom will have to be hoping some DLC can revive the falling sales of Resident Evil 6. The game divided fans of the series as it sacrificed its roots in order to be more accessible for the masses.
Moving on to another long running series and Doom 3: BFG Edition sees a massive fall from its lofty position, which it held in the previous week, as it settles in at ninth place for the week ended October 27th.
In eight place, comes a new entry and there really isn't much to talk about here apart from the fact that the title of the game is Moshi Monsters: Moshlings Theme Park. Yeah, go figure.
Professor Layton and the Miracle Mask finally makes its long awaited debut in Europe and jumps straight into seventh place. One can expect sales of this game to increase in the coming months, although that does not guarantee it moving up the charts, especially with the other titles that are set to release over the next few weeks.
Just Dance 4 has people making fools of themselves in front of their television sets but having a great time doing so, which is the important bit, and with the Gangnam Style DLC set to be released soon, one can expect the game to stay in the charts for a few weeks to come.
Critically acclaimed title, Dishonored, may not spawn a sequel but it has spawned a legion of fans and is sure to be nominated for a number of Game of the Year awards as the new IP has taken the gaming world by storm.
Skylanders Giants manages to find itself in fourth place, which is an impressive feat considering all the other games in the charts and the title has a solid chance of increasing its sales during the Christmas period.
Finally knocked off its perch is FIFA 13, the game spent over a month at number one. Not only that but it managed to sell a over seven-million copies since its release making it one of the biggest releases of 2012 and with time still left before next year, one can expect that figure to grow as well.
In first place is Medal of Honor: Warfighter. Yet the game seems to have failed to live up to its hype as it holds a Metascore of 57 from critics which is well below the expectations and standards set by EA. One can expect the game to free fall down the charts in the coming weeks.
Other People Are Reading