Metal Gear Rising gets a Limited Edition to die for
| November 1st, 2012 |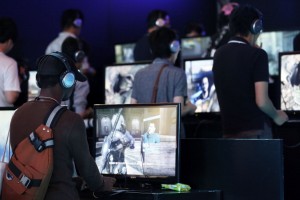 Konami set to make only 25,000 Limited Versions of Revengeance that come with a host of goodies including an action figure, DLC codes and concept art. The Limited Edition will also only be released in Japan on the PlayStation 3 format.
Metal Gear Rising: Revengeance is an off-shoot of the popular Metal Gear series. It sees Raiden as the main protagonist and his ginormous sword that is capable of slashing, hacking and slicing through anything and everything. Be it a pillar supporting a building, a soldier or a helicopter, once Raiden gets his sword swinging there is no stopping him.
The game was originally intended to be the first title to be developed on Hideo Kojima's new in-house Fox Engine. However, during the development period the game was outsourced to Platinum Games, who developed titles such as Vanquish and Bayonetta, due to their experience in the action genre.
The studio seems to have done a solid job as the hype surrounding the game has been immense. Earlier on, Konami announced the Limited Edition of the game which came with a Raiden action-figure. At the time the publisher only confirmed it for release in Japan and that too only on the PlayStation 3 console, seeing how the game will not be released on the Xbox 360 in the region.
However, getting back to the matter of what's in the Limited Edition of Metal Gear Rising: Revengeance and the highlight has to be the 30cm pose-able Raiden figure. Donning his white armour, which is another exclusive to the Limited Edition, Raiden looks bad a**.
The armour itself can be redeemed with the code given in the Limited Edition and allows Raiden to carry more 'life-recovery items.'
The special edition retails at just under 100 Euros and only 25,000 units will be released on the 22nd of February next year in the United Kingdom.
When it comes to pre-order incentives there are a number of steelbook covers that gamers can choose from as well as concept art from Yoji Shinkawa. At the same time players can unlock the Inferno Armour DLC as well, which sounds nothing short of awesome.
The second pre-order incentive combination sees a render of Raiden on the cover as well as DLC code which the players can use to unlock the Commando Armour. One can hope that doesn't mean Raiden goes commando, though knowing how the Metal Gear games work one should not put it past them to throw in a bit of humour at some point.
So will you be getting yourself the Limited Edition of the game or is the pre-order incentive enough to hold your interest? Let us know your preference in the comments section below.
Other People Are Reading