Metal Gear Rising Revengeance has minimal Kojima involvement
| October 9th, 2012 |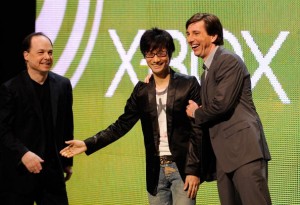 Lead producer of Metal Gear off-shoot, Yuji Korekado, explains how Hideo Kojima is only on hand to ensure the game fits into the universe for the future.
Hideo Kojima is one of the most respected developers in the video game industry. Pretty much every game he has developed is pure gold and yes, that is in reference to the Metal Gear Solid series. The game not only innovates and goes in directions no others have gone before but each new release has won numerous Game of the Year awards.
However, it has been a long time since the release of Metal Gear Solid 4 and although the game has been re-released with trophies, fans are still looking ahead to the next game in the series, which happens to be an off-shoot from the core series.
Metal Gear Rising was originally intended to be the first game developed of Kojima's own in-house game engine, the Fox Engine. Instead the game's development was handed over to Platinum Games, which has a rich resume of developing games in the same genre.
The hack and slash, adrenaline fuelled action gameplay of Revengeance is something completely new to the Metal Gear series and although purists are staying away from the title, it has garnered quite a bit of interest.
Yuji Korekado explained that Kojima's involvement in the game was minimal and that Platinum Games had full freedom to explore any gameplay and creative possibility they wanted.
He explained, "Well, for this game Mr Kojima has taken one step behind – his role here is executive producer, so he isn't getting too much into the game. As far as game design and the story goes we have full responsibility on that."
However, the team still had to check with Kojima to ensure that the game not only fit into the universe but also so that it could be incorporated in some way for future titles in the series.
"That said, he does check the product we're creating is along the lines of something that would be in the Metal Gear series and he's giving some direction in that regard."
Kojima often stated how he wanted to hand the Metal Gear series off to his team but was never able to. It seems Revengeance will be a test of whether or not he will be able to finally do that. However, seeing how the game is the complete opposite of the classic stealth espionage gameplay of Metal Gear Solid that still seems highly unlikely.
But what about the readers; does the lack of Kojima involvement have you wary about the game or has the all-action gameplay garnered your interest?
Let us know what you think in the comments section below.
Other People Are Reading