Metal Gear Rising was meant for the Fox Engine
| July 27th, 2012 |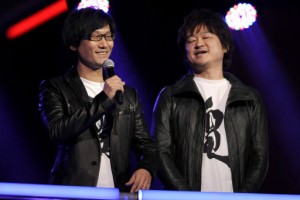 Hideo Kojima drops a hint and a mini-bombshell as he announces the Fox Engine is ready to be revealed on the 30th of August.
Hideo Kojima is one of the most revered personalities in the video game industry and is the founder of Kojima Productions, known for its work on the legendary Metal Gear Solid series.
His studio is currently working on a number of titles as well as new in-house game engine. One of the titles has been codenamed 'Project Ogre' and whether the game is Zone of the Enders 3 or Metal Gear Solid 5 or, in fact, a completely new title altogether.
However, Kojima did take a moment to reflect on how Japanese developers were becoming a rarity and how he hoped the studio's currently in-development game engine would help revitalise the industry in the region.
He said, "Production studios in Japan are nearly extinct, a fact that we have recognized for nearly 10 years," before going on to explain that the Fox Engine, was in good enough shape to be revealed to the public next month, "and although the Fox Engine is not finished we are ready to show what it can do… on August 30th in Japan to be more specific."
Kojima also conceded that the original plan was to have a game developed on the new engine while the engine itself was being developed. "The Fox Engine is nearly finished, but the only way to be sure it works is to create a game at the same time and improve the engine with our tools as we go along."
However, that plan hit a major snag when the game being developed on the Fox Engine, Metal Gear Revengeance, was handed over to Platinum Games instead. Kojima said, "Originally we were going to do this for Metal Gear Rising: Revengeance, but a lot happened along the way and instead it is being made with the engine they have at Platinum Games."
This leaves plenty of room for speculation as to what the game being developed alongside the engine is; could it be Solid Snake's next outing in the Metal Gear Solid universe despite the events of Metal Gear Solid 4? Could it be Zone of the Enders 3 or could it be none of the above and something completely new?
At this point in time no one but the development community seems to know with Epic Games' Cliff Bleszinski earlier tweeting that Hideo Kojima had "pulled him" into a room and shown him some 'crazy stuff" – all video game related of course.
What does the reader think will be shown on the Fox Engine on the 30th of August? Let us know in the comments section below.