Microsoft Summer of Arcade promotion to get underway with Tony Hawk's Pro Skater HD in July
| June 21st, 2012 |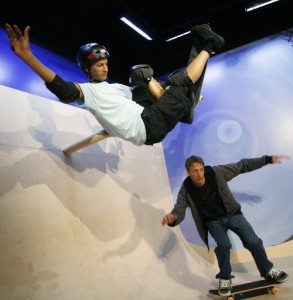 Tony Hawk's Pro Skater HD is set to kick-off the annual Summer of Arcade promotion by Microsoft on July 19.
The latest title in the Tony Hawk video-game franchise will be the first game in the series to use digital channels for distribution.
Since the release of Tony Hawk's Pro Skater 3 on Playstation over a decade ago, there has not been much for the fans to feel exited about. While the third title in the series was nothing short of spectacular, delivering a memorable skateboarding experience and earning a huge fan base around the globe, the titles that followed did very little to maintain the respect for the franchise.
Anyone who is familiar with the character of American professional skateboarder Tony Hawk should not feel surprised about his persistent attitude. Despite a string of disappointments, the pro-skater is still keen on making amends, determined to come up with a game that will entice the gamers in the same manner as Tony Hawk Pro Skater 3.
The HD iteration of Tony Hawk has been developed by Robomodo, the same studio that was behind the not-so-popular Tony Hawk Ride and Tony Hawk Shred.
Unlike the popular Devil May Cry HD collection that seemed to have simply undergone a hasty make-over, Tony Hawk's Pro Skater HD is a combination of levels from the first-two of 12 titles in the series, retouched and reproduced on the Unreal 3 engine, the technology behind the eye-popping visuals that has been leaving gamers stunned in the recent years.
A quick glance at the list of confirmed characters in the latest Tony Hawk Pro Skater game reveals that the legend Hawk is all set to ride again. Rodney Mullen, Eric Koston and Andrew Reynolds will also be making their return.
The game will also feature some of the recently-emerging skateboarding stars as playable characters, including the likes of Nyjah Huston and Chris Cole.
The soundtrack of the latest Tony Hawk title will once again comprise of up-beat songs. The collection will include tracks from the previous games such as "Superman" performed by Goldfinger and will also feature plenty of new tunes, which include "Please Ask for Help" and "Teenage Blood" by Telekinesis and Apex Manor respectively.
Trailers of Tony Hawk's Pro Skater HD look amazing, showcasing some of the finest action sports action at sites that the gamers will be quite familiar with.
With the release date of the latest title in Tony Hawk's franchise set just 10 days ahead of the latest edition of X Games, the mega-event of action sports hosted by X Games in Los Angeles, the game is expected to receive a warm exception.
Tony Hawk's Pro Skater HD is one of the five games that will become available for download over a course of one month during Microsoft's Summer of Arcade Promotion.