NBA 2K13 becomes the fastest-selling basketball game ever
| October 13th, 2012 |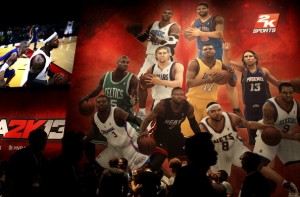 Having a monopoly in a certain video game genre sure has its advantage and that is exactly what 2K Sports is reaping with its latest instalment in the NBA 2K series.
Releasing on October 2, 2012, NBA 2K13 has become the fastest-selling basketball game in history,
According to the publisher, the sales figures of the game in its first week are 49 percent more than the sales figures of the previous title in the series.
The vice president of marketing for 2K Sports Jason Argent stated that the sales figures was a prove of all the effort that the company has put into the franchise to make it one of the best in the genre.
"Our early sales figures are a validation of our ongoing efforts to push this franchise to new heights," said Argent.
The publisher also claimed that a significant increase in the global popularity of the brand had taken place, while further adding that the sales figures of NBA 2K13 had rose 66 percent over the previous NBA 2K game in the international market.
Argent credited the fans for helping the company to improve the brand over the years and bring it to where it is today.
While NBA 2K12 was without any doubt offered a very satisfying experience to the professional basketball simulation fans, the growing popularity of the brand can also be attributed to the fact that it currently has no competitor.
Electronic Arts (EA) was traditionally the biggest force in the specific niche because of its NBA Live brand, but the company has remained missing from the genre since the last couple of years, with the last title in the series being NBA Live 10.
Earlier this year at the Electronic Entertainment Expo (E3) in Los Angeles, EA had announced that it was going to be reviving the series once more with NBA Live 13 in the final quarter-final of this year.
However, the publisher made an official announcement about the game being cancelled last week, explaining that the game still had plenty of room for improvement and therefore the company had decided to completely cancel the game instead of offering fans something that is not of highest quality.
With EA stepping out of the space yet again, the market was wide open for 2K Sports to completely take over.
The fans of basketball games had loved the NBA 2K12 experience and therefore had little doubt that the latest title in the series would be anything short of great.
With improved graphics, smoother gameplay and plenty of realism, the game is proving to be the best basketball simulation experience that the fans have ever gotten their hands on.
NBA 2K13 is available for the PlayStation 3, Xbox 360, Microsoft Windows, PSP and Wii, whereas the Wii U version will release along with the console itself in the North American region on November 18, 2012.