New Mass Effect 3 DLC in development, BioWare has a robust team working on the project
| December 6th, 2012 |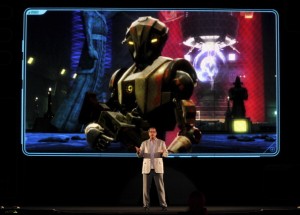 Just a week after BioWare released the Omega DLC for Mass Effect 3, first details of another expansion pack for the sci-fi third-person shooter role-playing game has already hit the cyber space.
While the name or release date of the next content patch has not been revealed yet, the very confirmation by the studio that it is in the works is enough to get the fans jumping over with excitement and anxiety.
BioWare has teased that the fifth major single-player DLC for the final chapter of Command Shepard's tale has a high potential for tears, something that hardly comes off as surprising since emotion has served as a core element throughout the series.
According to a post by BioWare designer Jos Hendriks on the studio's official forums, a robust writing team has been put together to pen the script for the upcoming DLC.
He revealed that the writing team comprises of about eight writers, majority of whom have already been involved in some aspect of the game.
"It's all hands on deck for this one. Pretty much every ME3 DLC writer here in Edmonton is involved. (which would include both Patrick Weekes AND John Dombrow)," he stated.
Story of the next Mass Effect 3 DLC is not the only thing that has been given in capable hands.
As per the hints compiled by Eurogamer, the game's chief composer Sam Hulick is returning to handle the music of the new expansion pack after notably having no involvement in the music of the previous two content patches, namely Leviathan and Omega DLC.
"What I'm up to lately: working on an unannounced Mass Effect 3 DLC," Hulick said through Twitter last night. "More details on this coming later on. Tossing in piano and muted strings for this one particular piece. High potential for tears," he added.
Sascha Dikiciyan and Cris Velasco will also be contributing to the score of the un-named Mass Effect 3 DLC, thus leaving no doubt that the amount of music featured in the upcoming expansion pack will be more than what has been seen in previous expansion packs.
Additionally, it has been revealed that the new Mass Effect 3 DLC will feature a number of familiar voice actors, which include Seth Green, who is the voice of Normandy pilot Joker since the start of the series, and Raphael Sbarge, who gave the voice of squad-mate Kaiden Alenko.
With such an impressive team brought together for the next single-player DLC, there is hardly any reason to believe that it would be anything short of impressive.
Some fans of the franchise have been complaining about Mass Effect 3 DLC being mere fillers instead of having a concrete connection with the mainstream story. It remains to be seen if the latest expansion pack will come off as just another 'filler' to them, or if it would leave them overwhelmed with emotions and satisfaction.