New Mass Effect game to feature a new protagonist, confirms BioWare
| October 22nd, 2012 |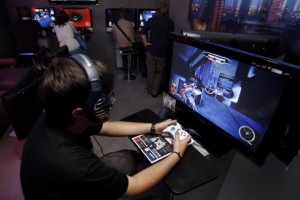 The fans of the Mass Effect reason may have been upset after getting done with the third title in the trilogy since it was the last, but publisher Electronic Arts (EA) and developer BioWare was quick to confirm that series was far from done yet.
However, those who are missing the all-too-familiar face of Commander Shepard will still have to rely on the recently concluded trilogy to explore the galaxy with their beloved protagonist as it has been confirmed by the developer that the latest title in the Mass Effect franchise will feature a new main character.
During a recent interview with VG247, BioWare Montreal producer Fabrice Condominas asserted that the story arc involving Commander Shepard is finished and thus he will not be returning in the next Mass Effect game.
He explained that the series is all set to move in an entirely new direction with Mass Effect 4, or whatever the latest title will be named.
The new direction, however, is something that will be finalised by the company after taking various suggestions and feedback into consideration.
"There is one thing we are absolutely sure of–there will be no more Shepard, and the trilogy is over," Condominas said. "This is really our starting point. Now the Mass Effect universe is vast, and very, very rich. So at this point in time, we don't even know what kind of time frame we're going to be in. All we're doing is more gathering ideas from the teams, gathering feedback to see several things."
Commenting on the new protagonist in the next Mass Effect game, Condominas confirmed that the main character would not just be an iteration of Commander Shepard, but will instead be someone quite different.
The studio wants the next main character to be someone who does not remind gamers of the protagonist from the first-three games in the series.
As far as the story is concerned, Condominas made it clear that it too would be very different from what the fans had experienced in the previous three titles.
"This will be a very, very different context for sure, and nothing has been decided on the rest," he said.
The Mass Effect trilogy that wrapped up earlier this year earned critical acclaim for its compelling and immersive storyline and gameplay, thus earning the brand its reputation of being one of the best games in the genre.
The publisher and developer, however, are not done with Mass Effect 3 yet. A handful of downloadable content (DLC) had been planned for the game to keep the experience fresh.
The latest expansion for the final chapter in the Mass Effect trilogy, the Omega expansion, has been priced and dated by BioWare already.
Other People Are Reading