New The Walking Dead video game stars Norman Reedus as Daryl
| December 3rd, 2012 |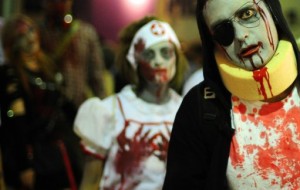 The on-screen actor has provided the voice for the main protagonist of the upcoming first-person shooter game set in The Walking Dead universe by Terminal Reality.
The Walking Dead may have started off a graphic novel but since then it has gone on to become a worldwide phenomenon with a hit television series by AMC and an interactive story-cum-game by Telltale, both receiving critical acclaim.
In fact, the latter was released in five episodes and each episode topped the charts when it came to the most downloaded game following their respective releases. However, that particular title was more of an interactive graphic novel with the added edge of allowing players to create their own story and outcome based on the choices they made throughout the game.
The game is set to be a first-person shooter based on one of the TV series favourite character, Daryl Dixon. You know, the one with the cross bow and love for road kill. However, the game is set to be a prequel to the TV series and show just how Daryl and his older brother Merle made it to the camp outside Atlanta during the outbreak.
Drew Haworth, the Creative Director at Terminal Reality, explained the vision behind the upcoming game as well as the story and setting.
He began,  "Our goal is to shape Daryl authentically, chronicling everything that happens to him from the initial Wildfire Global Outbreak until he joins with Rick Grimes' group at that quarry near Atlanta." Before continuing, "And on the way, we'll reveal a couple of our own interesting back story surprises that fans haven't already gleaned from the series."
However, he will not be alone on his journey as Drew explained that he will be kept company by a certain someone everyone in the show will be familiar with, Merle.
"As a bonus, we get to recreate that original dark blot of violence on mankind, Merle Dixon." More specifically, "The relationship between the Dixon brothers", which many know, "is complicated, to say the least." The game will allow players to "get to illustrate from Daryl's point of view."
The game is currently in development and is expected to be released in 2013. However, one would have thought that the mid-season break would be the perfect time to release anything related to The Walking Dead, however, it seems Terminal Reality have their sights set at the full season finale.
But what do you think about the game being a first-person shooter; will it take away from the essence of the graphic novels and TV series or can it find its place in the lore? Let us know your thoughts on the matter in the comments section below.