Next-generation of consoles the last, cloud gaming to become dominant, says Nvidia
| September 24th, 2012 |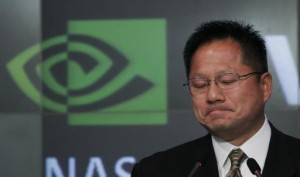 Nvidia's cloud gaming boss is of the opinion that the next-generation of consoles hardware could be the last.
The general manager of GeForce Grid Cloud Gaming department Phil Eisler came out to openly support the notion that Nintendo's Wii U as well as  Sony's and Microsoft's rumoured PlayStation 4 and Xbox 720 respectively could be the last console hardware as the streaming experiences would eventually take over.
During an interview with VentureBeat, he said that the console technology is improving at a significantly slower rate as compared to the technology used in cloud gaming, thus giving the latter a huge advantage.
Keeping this in mind, Nvidia is investing in the online streaming of games as it believes this particular experience to be the thing of the future and a viable replacement for console hardware.
"They say this is the last console, and I am certainly a believer in that," he said. "The last one is almost 10 years old now in terms of the technology. As we go through time, the good thing about cloud gaming is it's going to get better every year. One of the reasons we're investing in it is we see that there are some issues today, but they're all solvable and they're all moving in the right direction."
Eisler pointed out that the cloud gaming experience is expected to get better with every passing year since the bandwidth is increasing and the cost of server rooms is decreasing. If the given scenario continues, it would not be too hard to bring down the latency to a point where there would hardly be a difference between the responses of a game while streaming it and playing it on console.
The Nvidia GeForce Grid Cloud general manager conceded that his unit is already working on bringing the network latency to a level where it would surpass, If not match, the latency on traditional gaming consoles, thus making the streaming experience even more appealing.
He conceded that the GeForce Grid unit had already managed to reach a latency of 10 milliseconds and is now looking to cut the time down even further by working with smart TV manufacturers.
Being directly involved in cloud gaming and aware of the advancement of the technology, Eisler's opinion regarding the cloud-rendered experience being the future of gaming seems to hold ground.
Consoles are indeed beginning to suffer because their extended lifecycles and thus offer a relatively out-dated technology. Smartphones are already beginning to pose a serious threat to consoles for the same reason according to many industry analysts.
Nvidia has taken notice of how the likes of Sony, Microsoft and Nintendo are failing to keep up with the latest technology and therefore looking to capitalise on the opportunity by investing in cloud gaming, which the company views as the possible future of gaming.