NFC feature not confirmed for Rayman Legends, says Michel Ancel
| November 28th, 2012 |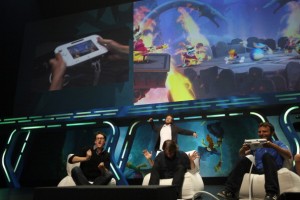 A trailer of Rayman Legends leaked earlier this year revealed real objects being beamed into the game using Wii U's near-field communication (NFC) technology.
The possibility of being able to use real objects to manipulate gameplay triggered a wave of excitement among gamers and industry analysts, who saw it as a ground-breaking innovation by Nintendo and Rayman Legends developer Ubisoft Montpellier.
The game's creative director Michel Ancel acknowledged the fact that the NFC capabilities of Nintendo's first-ever HD console do indeed pave way for innovative gameplay, the studio is not yet sure if it wants to incorporate the technology within Rayman Legend's gameplay.
Commenting on the game's leaked trailer that featured an object being placed on the console's tablet controller GamePad, which beamed the object into the game, Ancel said that the video just showed one of the many ideas that the development team had been exploring.
He said that what the fans saw during the leaked Rayman Legends leaked trailer was just a possible feature instead of an actual feature as many viewers of the trailer are assuming it to be.
"We didn't announce this officially and it was more the kind of experiment we do when working on new hardware like the Wii U," Ancel told the Official Nintendo Magazine. "We had prototypes of this and we believe that having real objects manipulating gameplay could be quite innovative. But again, this was a prototype and we won't discuss it until it's ready to demonstrate its full potential."
Even though Nintendo's next-generation console comes with the NFC technology, none of the 23 launch titles for the console in North America of 24 titles that the console will be launching with in UK make use of this feature.
Rayman Legends is the first game to tease NFC technology affecting the gameplay and therefore has the gamers waiting anxiously for its release.
Of course, the recent comments by the game's creative director will leave them in a bit of doubt, but there would still be a significant amount of hope that what they saw in the game's leaked trailer will actually turn out to be a feature of the game.
The latest title in the Rayman franchise is a follow-up to Rayman Origins that was released last year and exhibits some pretty strong resemblance to its predecessor.
However, Ubisoft seems to have made some significant changes to the gameplay, along with introducing a new female character Barbara and allowing a fifth player to control Murfy through the Gamepad's touch screen.
Rayman Legends will be released exclusively for Wii U sometime during the first quarter of 2013.
Wii U got launched in North America on November 18, while it will hit the shelves in Europe and Australia on November 30, before eventually releasing in Japan on December 8.
Other People Are Reading