Nintendo designer Shigeru Miyamoto keen to see Metroid and Star Fox for Wii U
| July 11th, 2012 |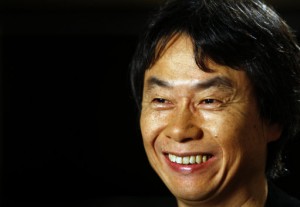 Even though Nintendo failed to make a solid impact during their Electronic Entertainment Expo (E3) conference with the presentation of their current-generation console Wii U and  its launch titles at Los Angeles last month, the company may just have a couple of surprises up its sleeves.
In a recent interview with IGN, the renowned Nintendo video game designer Shigeru Miyamoto conceded that he is personally looking forward to the arrival of the Metroid and Star Fox franchises on Nintendo's up-coming console.
He recognised the potential of Wii U to serve as an ideal platform for the revival of the two sci-fi games.
Talking specifically about the prospect of bringing Metroid to Nintendo's high-definition (HD) console, Miyamoto said that the console's GamePad is well-suited to the gameplay of the classic sci-fi franchise and will serve to offer a unique experience to the players.
"With Metroid it's very easy to imagine some interesting implementation for Wii U. I think that having another screen with the gyro built in really gives you a lot of interesting opportunities for development, and we can bring a lot of our games to life in a completely unique way with that," Miyamoto explained. "I feel like the possibilities of the GamePad for Metroid could be really fantastic. There's certainly a lot that you could do there for that game."
The brain behind the Mario and Zelda franchises also conceded that Nintendo's current-generation control seems like an ideal platform to take the series to an entirely new level.
Keeping in mind a recent statement by Nintendo of America President Reggie Fils-Amie regarding Retro Studios, the team behind the Metroid Prime series, currently working on a Wii U title, Miyamoto's opinion about the upcoming console's GamePad and Metroid may very well mean that a Metroid game is already in development.
The prospect of watching Samus setting out on her latest adventure is not the only thing that Miyamoto is excited about. He admitted that he is looking forward to the Star Fox franchise HD debut. He did not see anything further about the game, but considering his position and influence in the company, it may be safe to assume that Fox McCloud and friends will be eventually making a landing on Nintendo's upcoming console.
Nintendo had pretty much let its fans down during the E3 conference after failing to promise them a Zelda or Metroid game for Wii U that is scheduled to hit shelves this fall. While a few titles such as Pikmin and Super Smash Bros. were announced as launch titles, it failed to get the gamers excited. If titles such as Metroid and Star Fox get confirmed for Wii U, then there would be very little reason to doubt the success of Nintendo's first-ever HD console.