Nintendo not worried about using established IPs too much
| September 17th, 2012 |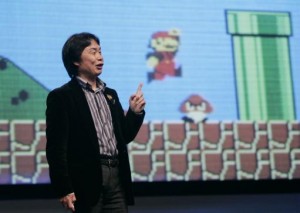 Despite the recent criticism, Nintendo is not worried about releasing too many Mario games coming back to bite them.
During a recent interview with Games Industry International, the president of Nintendo of America Reggie Fils-Aime came out and bluntly stated that the company has no plans of killing a goose that is laying golden egg since each new egg has a new and fresh experience to offer and is thus loved by the consumers.
Nintendo has certain franchises that it relies on heavily for its success and this is something that has brought it under fire quite a number of times in the past. Using these intellectual properties over and over again is something that seems to be working well for the Japan-based company at the moment, but many industry analysts believe that this luck would not last for long.
Fils-Aime, however, is of the opinion that there is nothing wrong with using certain intellectual properties. In a question regarding the potential danger that the over-usage of such franchises pose, the executive was convinced that such fears are without merit.
"I would say categorically, no," stated Fils-Aime. "And that's because our developers, starting with Mr. Miyamoto and going through the entire EAD development organization, they understand the power of our franchises, and they understand that the only reason these franchises have the power that they do is that they have to make sure that each subsequent edition is unique, different, and offers something new."
He asserted that the company itself was well aware of how crucial it is to handle such franchises with care and a lot of effort in put into ensuring that the new titles in the series meet the standard that has been set and maintain the reputation of the franchise.
"It's something they are highly cognizant of, and even the executives on the business side, we hold that IP very dearly to make sure that every edition in the series is foundationally sound," the executive explained.
Over the last year, Nintendo has come up with a number of Mario games, which include Super Mario 3D Land, Mario & Sonic at the London 2012 Olympic Games, Mario Kart 7, Mario Party 9, Mario Tennis Open and New Super Mario Bros. 2. There are a still a couple of more Mario games currently in the pipeline, namely Paper Mario: Sticker Star and New Super Mario Bros. U.
Nintendo cannot entirely be blamed for churning out so many Mario games or for repeatedly heading towards its Zelda franchise. The fans of the franchise arrive at Electronic Entertainment Expo (E3) every year expecting to hear about a new Mario or Zelda game. Earlier this year, the reaction of the fans upon finding news of a new Zelda game missing from Nintendo's press conference was a proof of just how much the fans value such intellectual properties (IP), thus forcing Nintendo to cater to their demands.