Nintendo of America boss responds to Wii U criticism
| December 5th, 2012 |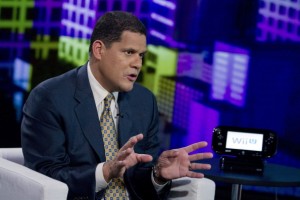 While there is no doubt that Wii U sales figures in North America are nothing to sneeze at, it is felt by some analysts that the launch of Nintendo's first-ever HD console could have gone smoother.
The bulky day-one firmware update that Wii U owners had to download after excitedly taking their system out of the box came as a huge turn-off for many consumers.
Even though the Japan-based company's boss Satoru Iwata recently came forward to apologise for the inconvenience that Wii U owners had to face due to the update, Nintendo of America President Reggie Fils-Aime has hit back at the criticism.
In a recent interview with Gamasutra, the Nintendo executive contended that the decision to patch complete online features of Wii U through a day-one firmware update was important to give developers an opportunity to keep working on and improving the elements until the last minute.
He explained that this was required to ensure that the consumer got the best-possible services and features.
"That creates a dynamic where our developers are working on elements until the very last point possible," Fils-Aime said. "That's why the system update was required on day one; and this is quite similar to what's happened with other consumer electronic products."
Fils-Aime pointed out that post-launch firmware update is a common practice that consumers have already come across while using electronic products and thus it is not as big a deal as it is being made into.
The hefty mandatory day-one patch is not the only issue that has the analysts hitting out at Wii U.
The specifications of the console have not yet been revealed by the company, but some hardware reviews have not been very kind to Nintendo's latest offering.
The Nintendo boss addressed the criticism over the rendering capabilities and hardware of Wii U by stating that the review of a system or game depends on the quality and capability of the person reviewing it.
He said that even though the Wii U reviews have not been very positive, other date has proved that the users are actually having a great time with the console and loving the new experience that has been offered to them.
"When I go on Miiverse and see how consumers are reacting to games like ZombiU or…Call of Duty, that tells me we're doing something very, very positive," he said. "Similarly, when I go on other consumer social networks and see other consumer reaction that is positive, I know we've done well."
The response of Fils-Aime to the criticism directed towards Wii U is surely not without merit, since the company's next-generation console is indeed managing to make quite a significant impact in regions where it has launched.