Nintendo to continue its support for Wii
| September 17th, 2012 |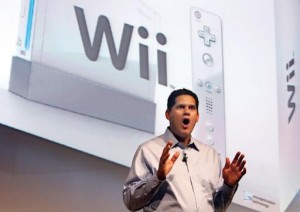 Nintendo has confirmed that it will continue to support Wii despite launching its successor Wii U come November in the North American and European region.
In a Q&A session with the investors following the company's Wii U conference in New York earlier this week, the president of Nintendo of America Reggie Fils-Aime made it clear that the company plans on selling Wii in the market alongside Wii U for an unspecified time and will continue to explore new markets where they believe the console still stand a good chance of appealing to the consumer.
"We will continue to sell the Wii," Fils-Aime said. "In the US, the Wii has sold about 40 million units. We believe that there continues to be an opportunity with the Wii."
Commenting on the various markets where the current-generation console will still be able to hold its own, the Nintendo executive said that he is responsible for the North American region, which includes America, Canada and Latin America. In his learned opinion, there is still a good opportunity for Wii to appeal to the consumer in the Latin America market since its price is less as compared to that of the upcoming console, which will be available in the region for $300 and $350 depending on which of the two bundles, Basic or Deluxe, the consumer goes for.
Fils-Aime explained that Wii is being sold in North America, Asia, Australia and Europe, but the Latin America market is yet to be explored. Selling the console at a price range of $140 to $250 would give it a good chance of getting picked up by the consumers.
"You can reach price points, you can reach consumers that, candidly, we won't be able to reach with the Wii U. That's gonna continue to be an opportunity," he said.
He further went on to point out that Eastern Europe is another area where the current-generation console is capable of doing well if priced right.
"On a global base, certainly there are markets in Eastern Europe. There are a number of other markets where if Wii has an attractive price point, it'll do well," the Nintendo executive stated.
The announcement by Nintendo to continue its support for Wii even though it has a number of challenges waiting for it once it launches Wii U in November is something that keeps the bond between the Japan-based company and its fans so strong.
It is not confirmed how Nintendo plans on increasing the appeal of Wii since it is a bit outdated in comparison to the other hardware that is available in the market such as smartphones. The most probable way of doing that seems to be a major price cut, though this is something that can be avoided by bringing out new games, especially a Mario or Zelda game, for the console.
Other People Are Reading