Nintendo to offer paid DLC for New Super Mario Bros. 2
| June 24th, 2012 |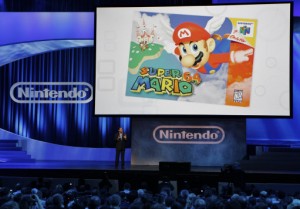 Nintendo has confirmed that paid downloadable content (DLC) will become available for New Super Mario Bros. 2 following its August 19 release on 3DS.
The news was given during a Nintendo Direct broadcast online this past Thursday.
The DLC for the latest title in the Super Mario franchise will contain special "Gold Rush" stages that will offer their own unique experience. The players will find themselves in a competitive race to amass as many coins as possible without losing a single life while playing through randomly selected levels. It would be possible for the players to compare scores with their friends, courtesy of the StreetPass feature.
With the new stages to become available only after the game has already been launched, there were concerns regarding the content and quality of the original release.
President of Nintendo of America Reggie Fils-Aime was quick to respond to the speculations, clarifying that no compromise is being made on the content and quality of the game, asserting that the out-of-the-box New Super Mario Bros. 2 will be a full-featured game.
Other than the "Gold Rush" stages, there is no clear information about what other content will become available for download following the game's release. Fils-Aime conceded that the plan is to make new stages by using player's feedback as an inspiration and guide. He admitted that he himself is not sure as to what content would eventually be offered.
Nintendo has not spilled any details about its specific pricing structure as yet.
DLC is a rapidly growing trend within the gaming industry that involves making new content available for players to download for a small fee after the game is already launched with the intended motivation of keeping the experience from becoming stale. The tactic is frowned upon by the groups sympathising with gamers, accusing the developers of employing such tactics to reap maximum benefits from a single product.
While both Sony and Microsoft had embraced the DLC trend with open arms, Nintendo had shown restraint. The company's president Satoru Iwata contended that while the premium post-release content might result in a boost in short-term profit, it did not contribute to Nintendo's "mid-term and long-term business developments."
However, he did hint a possible move towards DLC in the future, stating "If third-party developers would like to adopt this form of micro-transaction, and if this kind of business relationship between the developers and consumers is commonly accepted in Japan, we have no intention to decline it."
With Nintendo going premium, it would be interesting to see how players react to it.
New Super Mario Bros. 2 is coming out on August 19 in North America , July 28 in Japan and August 17 in Europe and will be the first-ever Nintendo title to have an identical date of release on both retail and digital marketplace.