No micro-transaction system incorporated in Final Fantasy VII re-release, confirms Square Enix
| July 12th, 2012 |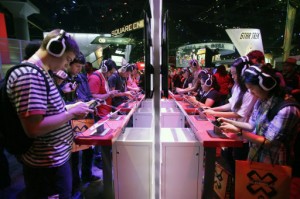 A lot of speculations have been put to rest after Square Enix confirmed that there will no micro-transactions in the upcoming PC re-release of Final Fantasy VII.
Just a week ago, the company announced the release of an enhanced version of what is unarguably the most popular title in the Japanese role-playing franchise JRPG). This new version will include a number of new features, including "Character Booster."
This particular feature will allow players to boost their stats and finances (Gil) to have a smooth sailing through the challenging sections of the game.
The revelation regarding the "Character Booster" feature resulted in speculations that Square Enix may have incorporated a micro-transaction system into Final Fantasy VII re-release, requiring players to pay a certain amount in order to get access to the enhancement features.
Seeking some sort of clarification on the matter, Kotaku contacted the Japanese video game company. Square Enix put the speculations to rest by confirming that it had no such plans and that the new features will be accessible without the charge of any money.
"No, the Character Booster will not cost real money to use," conceded a Square Enix representative. "We'll have final pricing info on the game to share soon, but we can confirm that there will be no microtransactions for the upcoming rerelease of Final Fantasy VII on PC."
The PC re-release of Final Fantasy VII will also include a number of other features such as achievements and cloud saving.
Originally released in 1998 on PlayStation One and re-released on PC a year later, the seventh title in the Final Fantasy franchise had sold 10 million copies worldwide as of May 2010. The game had received excellent reviews and enjoyed both critical as well as commercial success.
Considered to be one of the best video games of all time and also the most successful title in the Final Fantasy series, the original Final Fantasy VII had ended up setting the bar so high that the successive titles were unable to match it in terms of quality and success. Hungry for experience as special as the one offered by the seventh instalment in the series, the fans instantly began to demand a remake of the game after the advent of high definition (HD) consoles.
As the speculation about Final Fantasy VII possibly being in the process of development grew stronger, Square Enix came out to explicitly state that it was not working on any such project. It also clarified that there were no plans to revisit a previous title in the Final Fantasy franchise until the current titles managed to match, if not surpass, the quality of its predecessor. It further elaborated that going back to Final Fantasy VII may appease the fans, but may end up killing the franchise.