Omega DLC out for Mass Effect 3
| November 28th, 2012 |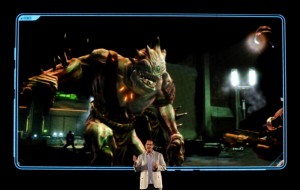 The highly-anticipated single-player Omega DLC for Mass Effect 3 is available for download on Xbox 360, PlayStation 3 and PC.
The expansion pack can either be owned for 1,200 Microsoft Points or $14.99.
With a size of nearly 2GB, Omega DLC has the largest expansion pack for a Mass Effect game to date, thus proving the claim made by the producer regarding the new DLC being twice the size of the largest DLC that the studio has ever done for the sci-fi third-person shooter role-playing game to be true.
Even though Mass Effect 3 marks the end of the original blockbuster trilogy, it is clear that Commander Shepard is not quite done with his adventures yet.
The Omega DLC will feature everyone's favourite hero team up with the pirate queen Aria T'loak to regain control of the infamous black market trade post Omega.
The space station has been taken over by the Cerberus agent Oleg Petrovsky and his squadron, something that does not go down too well with T'loak, who believes herself to be the rightful leader of Omega.
Not in a position to battle her adversaries and take back the space station on her own, the fan-favourite pirate queen seeks the assistance of Commander Shepherd.
The duo will, however, not embark on the mission to snatch the control of the space control away from General Petrovsky alone. They will have a third member, a new female Turian character, helping them out in their quest.
"Forced to rely on Aria's unique knowledge of the station and faced with her lust for revenge, how far will you go to retake Omega?" reads a line from the content's announcement.
Along with introducing a new mission, the Omega DLC will introduce some new weapons and additional never-seen-before characters to Mass Effect 3, thus injecting a significant dose of freshness into a game that has been there for quite some time now.
Fans of the Mass Effect franchise would have surely come across the confirmation by the game's developer BioWare that it is already working on Mass Effect 4.
However, it has also been confirmed that the next game will take a differently approach towards the series, along with featuring a new protagonist.
BioWare has also ruled out the possibility of Commander Shepard making a comeback in Mass Effect 4.
For the past few weeks, the BioWare team has been calling out to the fans to give their suggestions regarding what they want to see in the next title in the next Mass Effect game. The developer has also left up to the fans to decide whether the next title should be a prequel to the series, or if it should be a sequel.