Oppa DLC as Just Dance 4 goes PSY-cho with Gangnam Style
| October 20th, 2012 |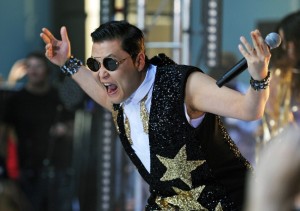 Ubisoft brings the global phenomenon to its latest dance title as a DLC and fans can expect much more content in the future, though surely, none could rival this.
Since the moment it burst onto the scene one could sense that PSY's Gangnam Style was going to be something special, very few however, could actually have guess just how special.
As it turns out the video now has over 500-milion views on YouTube and counting, with the Korean popstar PSY touring the world and busting his unique, catchy and bloody brilliant moves in almost every major city around the world.
The artist has appeared on a number of television shows, performed on the street for his adoring fans and his concerts have been a sight to behold with nearly the entire crowd dancing along to the song.
The inspiration for the title, 'Gangnam Style' itself basically stems from the Gangnam district, which one can compare to the posh-er locales such as Beverly Hills and the 'swag' associated with it. At least, that's why PSY wants everyone to believe. Whatever the case, the song has been adapted into advertisements and sung in a number of languages as well, and of course been parodied on YouTube.
However, it seems that Just Dance 4 has made a move that could potentially see it tap into the Gangnam Style's success as not only have they signed an agreement with the artist but they are also releasing the track as a DLC for their game.
Geoffroy Sardin, Ubisoft's chief marketing and sales officer, made the following announcement:
"Our fans were really vocal about wanting Gangnam Style in Just Dance 4 and we listened. This marks the first of many hot upcoming DLC tracks for Just Dance 4."
No pricing has been announced yet but it is likely not going to matter.
Korean-pop or K-Pop artist, PSY, also chimed in and said "I can't wait to see all the YouTube videos," which one can rest assured there will be plenty of.
The DLC is set to release sometime around November with no specifics available yet.
It is difficult to predict how many times the DLC will be downloaded and by how much it will boost the sales of the Ubisoft title. The game tends to do well in the charts on its own, regularly featuring in the top ten in both the UK and the United States, and this move could see it go up a few places.
Whether or not that actually happens remains to be seen but in the meantime one could spend their previous time practicing their moves and singing the two lines from the song they actually understand such as "Oppa Gangnam Style" and "HEEEEEYYYYYYYY SSEEEXXAAAAYYYY LLLLADDDDYYY!"