PC gamers up in arms over GTA V snub
| November 27th, 2012 |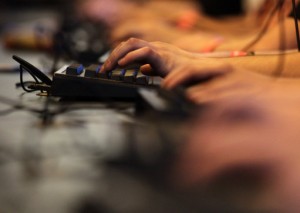 The PC community is petitioning to bring Grand Theft Auto 5 to their platform as Rockstar has not confirmed the game's release for PCs as of yet, offering only a 'it's under consideration'.
A recent petition requesting Rockstar to develop a PC version of the upcoming Grand Theft Auto is gaining momentum. It has already raked up a total of 42,814 signatures with the ultimate goal of reaching 57,186 signatures to prove to the developer that there is sufficient basic demand for the product to warrant a release.
The petition, although not as formal or articulate as one would expect does a solid job at driving home the point. It reads:
"Please release GTA V on PC. GTA games have been a large part of so many peoples lives and it's a big shame not seeing the newest iteration of the game being released on the most powerful platform."
The petition continues, "Things like modifications have always been a HUGE part of PC gaming and modded GTA is some of the most insanely fun times you can have."
Before leaving off on a slightly third-grade letter note, "I hope you consider the release of GTA V on PC as it'll make many people very happy!"
Again, it has gained over 42,000 signatures and that is the fact that everyone, including Rockstar, will be focusing on.
The exclusion of the PC version came as surprise to many, especially seeing how PCs have now surpassed consoles in terms of power with Medal of Honor: Warfighter and Battlefield 3 prime examples.
There is no denying the fact that the Grand Theft Auto series is one of the most popular in the industry and has even become a part of popular culture as well. The latest game is set to feature three different protagonists, with interweaving storylines, which Rockstar explained was due to the fact that the expansions for Grand Theft Auto 4 were so successful.
At the same time, the developer also explained that the latest map will be considerably larger than any previous map in the series. One of the reasons for this was the inclusion of jets and the size was increased to accommodate flying them around.
Many believe that Grand Theft Auto remains the only game that can pose a serious threat to Call of Duty's dominance in the sales charts and that may be the case, which makes one wonder why the developer would not want to release the game on as many platforms as possible.
For the time being the PC and Nintendo Wii U versions of the game are under consideration but one has to wonder if and when Rockstar decide to go ahead with the different versions.